Jason Day's Mansion In Ohio
While most PGA members flock to the sunny shores of California, Jason has chosen to establish an extraordinary five-acre golf retreat right in the comfort of his own back garden in Columbus, Ohio. This exceptional setup provides him with the ideal facilities to enhance his golf game and facilitate his recovery from his back injury. The weather in Ohio can be quite capricious during the winter, posing a challenge for outdoor practice sessions. To counter this, Jason has installed an indoor golf simulator that perfectly replicates the experience of playing on an actual course. With a staggering net worth of $40 million, it comes as no surprise that Jason possesses a mansion and home golf complex that elicits envy from every golf aficionado.
However, Jason's journey to success was not without its share of hardships. He had to put in relentless effort to reach the pinnacle of his career. Coming from modest beginnings, he spent his formative years on a farm, tending to cattle and sheep. To overcome the lack of resources, his family would often scour landfills in search of items they needed. It was during one of these expeditions that Jason's father stumbled upon an old three-wood golf club, which he bestowed upon young Jason when he was a mere three years old. This serendipitous encounter marked the inception of Jason's golfing journey. Later, the family relocated to Rockhampton, where Jason continued to thrive, clinching victories in various events.
At the age of 12, tragedy struck when Jason's father passed away due to stomach cancer. Subsequently, his mother enrolled him in the Kooralbyn International School, renowned for its exceptional golf academy. A turning point in Jason's golfing trajectory came when a friend lent him a book chronicling the exploits of Tiger Woods. Treating the book as a comprehensive guide, Jason diligently integrated its teachings into his daily practice routine, leading to his subsequent triumphs in various tournaments.
In 2006, Jason Day officially turned professional, achieving a significant milestone by winning the Green Jacket at the NEC Masters of the Amateurs. This victory garnered attention, and he subsequently signed sponsorship deals with prominent brands such as TaylorMade and Adidas. He made his debut in PGA Tour events in 2007, leaving an indelible mark by securing a remarkable win at the Legend Financial Group Classic on the Nationwide Tour, thereby becoming the youngest player to triumph across all three PGA Tours.
Now, let's explore Jason's magnificent mansion and golf complex. The two-story house boasts an elegant design with glass and metal railings enveloping its entirety, creating an open and airy ambiance that allows abundant natural light to illuminate the interiors. Inside, Jason's gym is equipped with state-of-the-art exercise equipment, enabling him to maintain peak physical condition. The highlight of his practice space is a robotic putting green that can be adjusted to simulate various slopes, providing him with the opportunity to practice a wide range of putts and master the art of reading breaks. Throughout his home, visitors can catch a glimpse of the numerous trophies Jason has earned over the years, including the prestigious PGA Trophy, as well as an old golf club that holds sentimental value from his childhood. In his bedroom, sports jerseys adorn the walls, among them one signed by the Australian rugby team, showcasing his diverse sporting interests.
Ascending to the top floor, we discover three rooms, including a lavish master bedroom featuring a king-sized bed. From this elevated position, Jason can enjoy sweeping views of the meticulously manicured backyard, complete with a 150-yard fairway. The diligent groundskeeper, Jason Spencer, has impeccably maintained the lush grass, ensuring an optimal practice environment. To protect the turf from excessive wear, Jason has installed mats to absorb the impact of practice shots. His future plans for the golf course include removing trees to create a more expansive feel and enhancing privacy from the water side.
Jason Day's backyard exudes an aura reminiscent of the renowned Augusta National Golf Club in Georgia, United States. Drawing inspiration from Augusta, known for its breathtaking azaleas, dogwoods, meticulous upkeep, and challenging course design, Jason aims to design a space that keeps him engaged and simulates the difficulties found at the Oakmont course.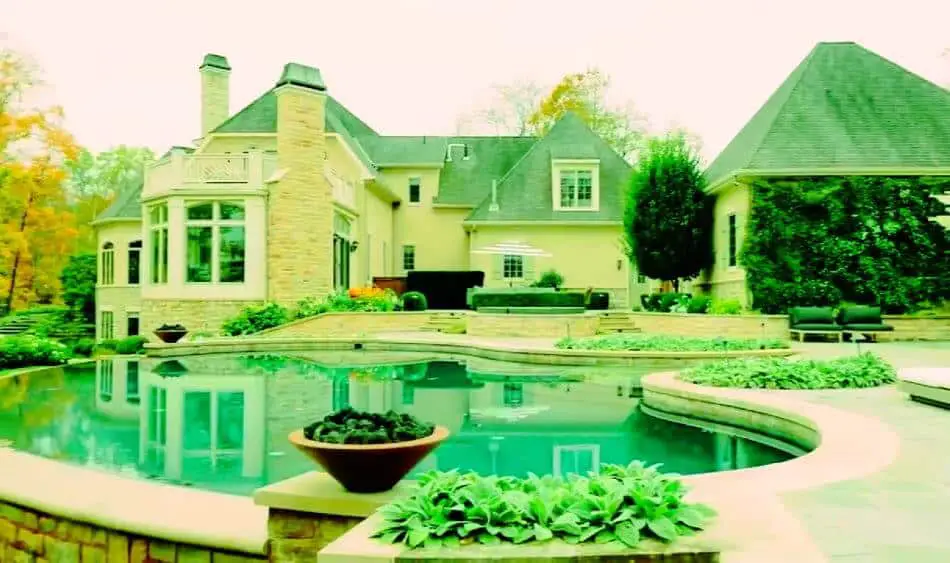 Adjacent to the pool, there is a fully functional pool house where Jason can unwind and relax. Additionally, there is a designated bus parking area nearby, allowing him to travel with his family conveniently. Next to the pool house, you can find a soothing sauna area where Jason can rejuvenate.
Although the landscaping in this section is still a work in progress, it doesn't detract from the overall appeal. The sauna area even features a cold plunge, providing Jason with a refreshing way to cool down after intense tournaments. During the warmer months, he enjoys having massages or engaging in stretching exercises on the patio, surrounded by serene views of trees and tranquility.
Unfortunately, Jason has been dealing with a back injury, but he remains optimistic that with these exercises and massages, he will make a full recovery and return to the game stronger than ever. Every aspect of his home practice area and gym is dedicated to his recovery and improvement, and we are delighted to see Jason Day on the path to complete health and seeking to elevate his game after a challenging year.
Returning to the pool house, it serves as a perfect retreat during the summer months, featuring a small pond in the center. The pond was not initially present when they purchased the house; it was a natural addition that enhanced the landscape, previously dominated by numerous trees. Furthermore, Jason's mother currently resides in the pool house as she undergoes treatment for cancer, and she has been there for the past two years. Our thoughts and well-wishes go out to both Jason and his mother as they face these health challenges, and we hope for their swift recovery.
In conclusion, Jason Day's mansion and home golf complex are a testament to his unwavering dedication and passion for the game. With his exceptional practice facilities and remarkable journey from humble beginnings, Jason continues to inspire golf enthusiasts worldwide. As he overcomes his injuries and works toward reclaiming his former glory, we eagerly anticipate witnessing his return to the leaderboard and witnessing the next chapter of his remarkable career.