In most cases, the putting yips are caused by an involuntary twitch that occurs during the first half of the follow through. It can have a disastrous effect on your putter face angle at impact, meaning that you can potentially miss putts inside of 2 feet.
The technical name for shaky hands is 'essential tremor'. It basically means that your hands have a tendency to tremble. If you combine trembling hands, with the anxiety of missing a short putt, and then add torque (rotational force of the putter head) into the equation, it's easy to understand why people can have trouble sinking short putts.
Your physiology (shaking hands), psychology (fear of missing short putts), and the physics of the putter that you are using (the face literally twists open and closed), are all working against you. To make matters worse, as your nervousness increases, it magnifies each weakness in the 'yip-chain'.
However, before you consider early retirement from the game of golf, you should at least entertain the idea of bagging a super game improvement putter. Each putter in this list has unique technology that could potentially cure your putting yips. Now let's dive into some of the best options currently available.
Best Putters For The Yips
LAB Golf Directed Force 2.1 Black Putter
There are a number of game improvement features built into the Directed Force 2.1 Putter.
First off, it's classified as a torque free putter. This means that when you take the putter back and through, there is no rotational force (torque) acting on the putter head. LAB golf are able to achieve this feat using their Lie Angle Balance (LAB) technology, which the entire company is founded on.
All of this might seem very technical, but it becomes very easy to understand when you place the putter in an object called 'the revealer'.
As you can see, the DF 2.1 is built to remain square throughout the stroke, and it actually delivers on this claim. In addition, the DF 2.1 has a press grip, which allows you to set the putter down at address with an automatic forward press. This helps to get the ball started on the intended line, as it encourages a small amount of topspin.
Lastly, the DF 2.1 is quite literally a massive mallet. This makes distance control on long putts much easier, because off-center strikes should travel pretty much the same distance as perfectly center strikes.
All in all, the DF 2.1 packs about as much game improvement technology as you possibly can into a regular length putter. Its claims of being torque free are justified, and there are a number of high-profile golf club reviewers (Peter Finch, Rick Shiels and Steve Johnston) that stand by how well this putter performs on the greens.
To find out more about this putter, check out our LAB Golf Directed Force 2.1 Putter Review. 
Lie Angle Balanced, meaning zero 'torque' during the stroke
PressGrip builds in automatic forward press technology
Built to stay square throughout the stroke
Large mallet design increases forgiveness with off-center strikes
SIK Flo C Arm Lock Putter
Armlock putting is becoming increasingly popular on tour, because is perfectly valid way to increase the stability and consistency of your stroke. If you switch to the SIK Flo C Arm Lock Putter, you can instantly unlock the following benefits. 
1. Automatic Forward Press
The main reason a forward press is so beneficial, is because it allows you to easily impart top spin on the ball. This gets the ball rolling end over end in a straight line, rather than wobbling from side to side on the way to the hole. In other words, because arm lock putters automatically create a lot of topspin (by encouraging a big forward press), you can potentially hit your putts straighter than a normal putter would, assuming there are no path issues at play.
2. The Most Stable Legal Putting technique
By switching to the Arm Lock Putting Method, you effectively remove the need to release the putter head past the hands during the follow-through. You basically set the angle of your wrists at address, and then maintain this angle during the backswing and the follow-through of the putting stroke, by rocking your shoulders back and forth.
With a normal putter, you have to release the wrists during the follow-through. The putter head literally passes the hands after impact. This is what makes putting so scary for people with the yips. Once you lose confidence releasing the putter normally, it's very difficult to re-establish that confidence. The fear which often develops, as a result, can be a career killer for amateurs and professionals alike.
Thankfully, an arm lock putter effectively removes the scariest part of the putt (when the putter head passes the hands). The triangle established between your shoulders, arms, and hands never breaks down. This is why arm lock putting can be such a good cure for people with the yips.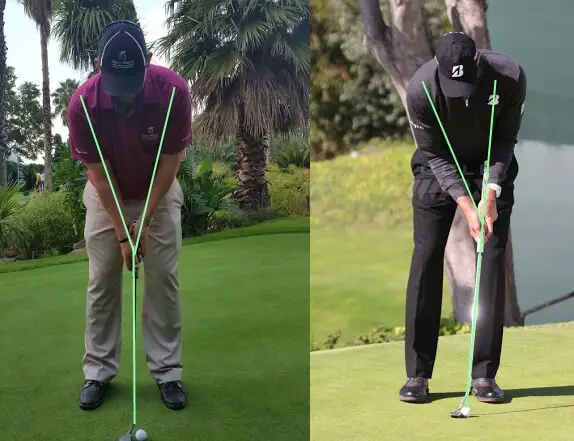 3. Descending Loft Technology
In addition, if you opt for the SIK Flo C Armock Putter, you can also tap into descending loft technology (this is why Bryson uses a SIK Armlock putter).
Descending Loft Technology™. DLT delivers consistent launch angles regardless of shaft lean at impact which leads to more consistent and predictable rolls. Put another way, the putter face actually has 4 different lofts. As a result, it doesn't matter all that much whether you hit the ball on the top of the face or the bottom of the face. DLT should ensure that the roll is basically the same regardless. In other words, your speed and your line can benefit immensely from descending loft technology.
ArmLock putting style encourages automatic forward press
Mallet design makes distance control easier and the putter more forgiving
Built with Descending Loft Technology, which can improve launch consistency off the face of the putter
Scotty Cameron Phantom X 5 Putter
There is nothing truly unique about the Scotty Cameron Phantom X 5 Putter. However, it has become one of the most popular mallet putters on the PGA Tour, becuase of the streamlined headshape, simple alignment features, and exceptional feel.
The player that has benefitted the most from switching to the Phantom X 5 Putter is none other than Patrick Cantlay. He spent the first part of 2021 tinkering with every putter imaginable, and then he finally settled on the Phantom X 5. It's safe to say that it was a match made in heaven.
He went on to win the memorial tournament, then he smoked Bryson DeChambeau and Jon Rahm at the FedEx Cup, achieving his highest ever world ranking of No.5. Importantly, Cantlay would never have achieved these amazing feats without putting the Phantom X 5 in the bag. lt's a tour proven mallet that can potentially improve your putting stats, dramatically.
Single milled sightline is the perfect focal cue
Mid-bend shaft minimizes face rotation
Precision milled 303 stainless steel face provides exceptional feel
Wingback mallet shape enhances stability and forgiveness
Bettinardi INOVAI 7.0 Slant Neck Putter
The Bettinardi INOVAI 7.0 Slant Neck Putter has is possibly the highest MOI (Moment of Inertia) putter of any putter in the world right now. This is another way of saying that it is super stable through impact and extremely forgiving on off-center hits.
In addition, the unique cobalt blue head shape and T-shaped alignment aids make it relatively simple to set up square to the target.
The INOVAI 7 offers an ultra-soft feeling milled face, and it is built with a Tour-grade shaft to further enhance stability throughout your stroke.
Super High MOI means minimal twisting at impact
Tour grade putter shaft further enhances stability
Unique head shape and T shaped alignment aid frames the ball very nicely at address
Super soft feeling milled face
Axis1 is another brand that offers a variety of torque free putters. Unlike the center shaft offerings of LAB Golf, Axis1 Putters have a more traditional design, albeit with a unique heel and shaft design which can take a bit of time to get used to.
If you've spent any time watching Justin Rose putt recently, you may have noticed that he actually games an Axis 1 Putter. The design that he has collaborated on is called the Axis1 Rose, and it is by far the most normal-looking putter in the Axis1 line-up.
After making the switch from a Taylormade Ardmore, Rose's putting stats went through the roof with the Axis1 in the bag (2018 Season).
Strokes Gained Putting: 21st to 17th
Total Putting: 49th to 13th
One Putt Percentage: 42nd to 3rd
3 Putt Avoidance: 73rd to 8th 
Putter remains square at address and travels perpendicular to your swing path
Torque Free Design eliminates putter face twisting throughout the swing and at impact
Patented counterweight places the center of gravity in the center of the striking face and in line with the axis of the shaft
CrossPutt Edge 1.0 Putter
Most golfers recognize that alignment is vital to making more putts. In fact, you could go so far as to say that if you have alignment issues, you will never be a truly great putter.
To help resolve the issue of eye alignment, CrossPutt have created a double alignment system. Here's how it works: When you line your eyes over the ball, you need to ensure that the top alignment aid is directly inline with the bottom alignment aid. When both alignment aids create a straight white line, you know that your eyes are directly inline with your target.
At this point it's worth mentioning the impact that eye alignment has on your putts.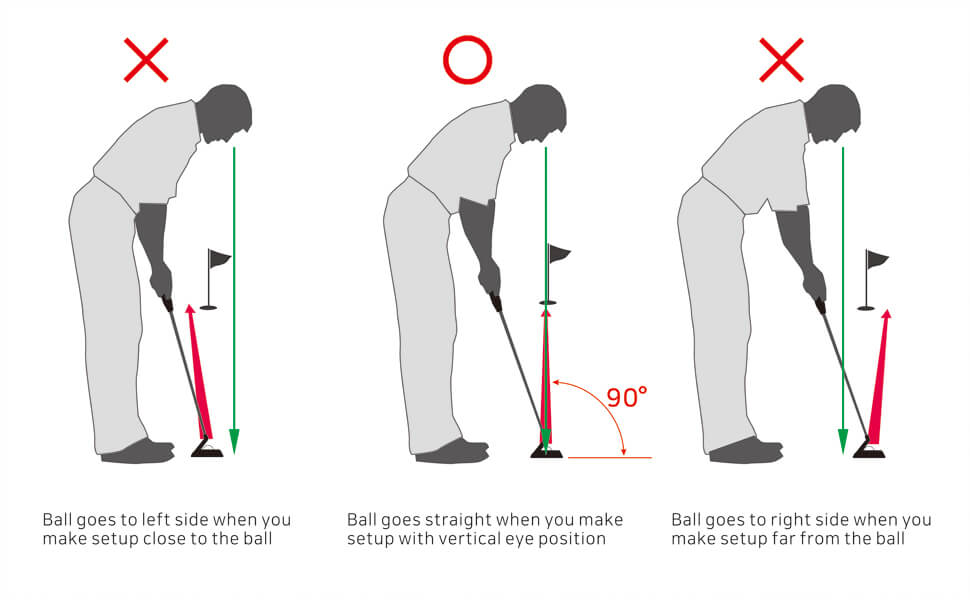 If your eyes are too far over the ball, you are likely to miss putts left.
If your eyes are too far underneath the ball, you are likely to miss putts right.
If your eyes are directly over the ball, you are likely to hit the ball directly where you are aiming.
CrossPutt might not be a very well-known brand, but they do have a unique selling proposition (eye alignment) and this could potentially cure your yips. This is particularly true if you have a dominant miss to the left or the right. That would indicate that eye alignment could be the root cause.
EVNRoll ER11v MidLock Mallet Putter
If you're a keen golfer, you've probably heard a few things about arm lock putters. However, you might not be aware of EVNRoll's take on armlock anchoring.
Instead of using a long grip like Will Zalatoris or a Jumbo Max grip like Bryson DeChambeau, Evnroll's Midlock putters are built with a WristLock Grip. This makes it significantly easier to anchor the putter against your wrist than a normal armlock putter.
This effectively unlocks two key benefits that can potentially be very useful for people who suffer with the yips.
Benefit 1: You can anchor the putter against your wrist 
This maximizes stability throughout the stroke,  especially at impact.
Benefit 2: You can set up with a forward press
A forward press can be very beneficial for your putting stroke. With a wristlock putter, you will find it very natural to set up with a forward press and maintain that forward press throughout the stroke. The wristlock grip makes it far easier to prevent your wrists from breaking down during the follow-through.
WristLock putter grip eliminates wrist movement during the stroke
WristLock grip encourages an automatic forward press
Effective Loft Angle – 4 degrees
Lie Angle – 71 degrees
380 gram head weight
Odyssey 2 Ball Broomstick Putter
You may or may not know that Bernard Langer experienced several bouts of putting yips during his career. In particular, he struggled with putting yips on short putts, with anything from 12 inches to 4 feet being his ultimate nemesis. In the end, the ultimate cure for Langer proved to be a Broomstick Putter.
His transition to a broomstick putter partially explains his amazing success on the Senior PGA Tour. He has always been an excellent ballstriker, but his putting was a never ending achilles heel. Then he made the switch, and he's basically been unstoppable ever since.
Moreover, there are plenty of professionals that found success with this particular path. Bernard Langer is the most prominent, with Adam Scott, Justin Harding, Thomas Bjorn, and Scott McCarron. Right now, the Odyssey 2 Ball Broomstick Putter is one of the best choices for people considering this avenue as a cure for the yips.
48″ Long Broomstick Putter
Legendary alignment and shaping
The best Odyssey 2 Ball Model design
Adjustable weight screws allow you to match the putter to your stroke for maximum stability