Wilco Nienaber is one of the most exciting young golfers to emerge from South Africa in the last 5 years. 
While his achievements haven't been nearly as impressive as his good friend Garrick Higgo, there's reason to believe that these two players could be the modern-day equivalent of Louis Ooisthuizen and Charl Schwartzel. 
The standout feature of Nienaber's game is driving distance. He hits the ball an absolute mile, naturally. There's no huffing and puffing before he steps up to the ball. He just gets into the address position and absolutely smokes it. For example, the video clip below show Wilco smashing a monster 439 yard drive at the Joburg Open in 2020. 
Wilco Nienaber World Ranking 
Wilco is currently outside the top 200 golfers in the world, with an official world ranking of 206.However, his ranking is is getting better over time. For instance, in 2018 he ended the year ranked 2006. In 2021, he dropped as low as 141st.
From our perspective, it is just a matter of time until he cracks the top 100 and stays there. Whether or not he can make it inside the top 50 and automatically qualify for the Masters remains to be seen. He certainly has the athletic potential to live inside the top 50 bubble. However, his game still requires a lot of refinement.
| Year | Lowest Rank | Highest Rank |
| --- | --- | --- |
| 2019 | 1603 | 1647 |
| 2020 | 162 | 1659 |
| 2021 | 141 | 201 |
As you can see from the table above, Nienaber's overall trajectory is positive. He jumped up roughly 1500 places in 2020. However, he has since stagnated a little bit, hovering between 141 and 200 over the course of 2021. 
Wilco Nienaber Height and Weight Stats
Wilco Nienaber is 6 foot 2 inches, and 175 pounds. If anything, his height and weight stats proove that you don't have to bulk up in order to hit the ball far. Natural explosive power combined with long limbs and excellent timing seems to be a better recipe for distance than Bryson's DeChambeau's bulking philosophy.
Height: 6 foot 2 inches (1,88 meters)
Weight: 175 Pounds (79.5 kg)
Wilco Nienaber Driving Distance
| Year | European Tour | PGA Tour |
| --- | --- | --- |
| 2020 | 340.47 | N/A |
| 2021 | 325.32 | 342.7 |
Nienaber's most impressive driving distance stat came in 2021, when he set the Europan Tour Record with an average driving distance of 340.47 yards.
To put this in perspective, this was 12 yards longer than the second-longest player European Tour player in 2020 (Dean Burmester, 328.81 yards). It is also more than 15 yards longer than the record Bryson DeChambeau set on the PGA Tour in 2021 (323.7 yards).
Wilco Nienaber Swing Speed
Wilco Nienaber's swing speed ranges from 130 to 140 mph. On average, he sits around the 132-135 mph mark, but he can crank it up to 140 mph when he needs to.
Perhaps more importantly, he regularly achieves ball speeds over 200 mph. On the PGA Tour there are very few pros physically capable of reaching this magical number. Right now, this list is limited to Bryson DeChambeau, Tony Finau and Cameron Champ, but there might be a few other players who can hit the 200 mph mark on the range or during social rounds.
In addition, the fastest recorded ball speed during a PGA tournament is 199.55 mph by Bryson DeChambeau (2021). The key point here is that Wilco regularly goes over the 200 mph mark during tournament play. That makes him a unicorn in the world of professional golf. 
Side note – To work out your own clubhead speed, check out our simple to use swing speed calculator. 
Is Wilco Nienaber longer than Bryson Dechambeau?
LOL. That's a bit like asking if Christiano Ronaldo is taller than Lionel Messi. The short answer is YES. Now you probably want some stats to back up this statement.
Most golfers know that the US Open is set up to be extremely long. To actually lift the trophy, it is basically a pre-requisite to be freakishly long off the tee. Just consider the last 6 US Open Champions.
2016 Dustin Johnson
2017 Brooks Koepka
2018 Brooks Koepka
2019 Gary Woodland
2020 Bryson DeChambeau
2021 Jon Rahm
As you can see from the image above, Nienaber's average driving distance during the 2021 US Open was 346.80. DeChambeau's average driving distance was 334.00. That effectively means that Nienaber genuinely hits it about 12 to 15 yards further than Bryson, on average. 
Is Wilco the longest professional golfer in the world right now?
Amazingly he is not. That honor actually belongs to another South African by the name of James Hart du Preez.
On the Sunshine Tour in the 2020/21 season, Du Preez's average driving distance was measured at 373.07 yards, which was literally 15 yards longer than Wilco Nienaber that year (358.57 yards).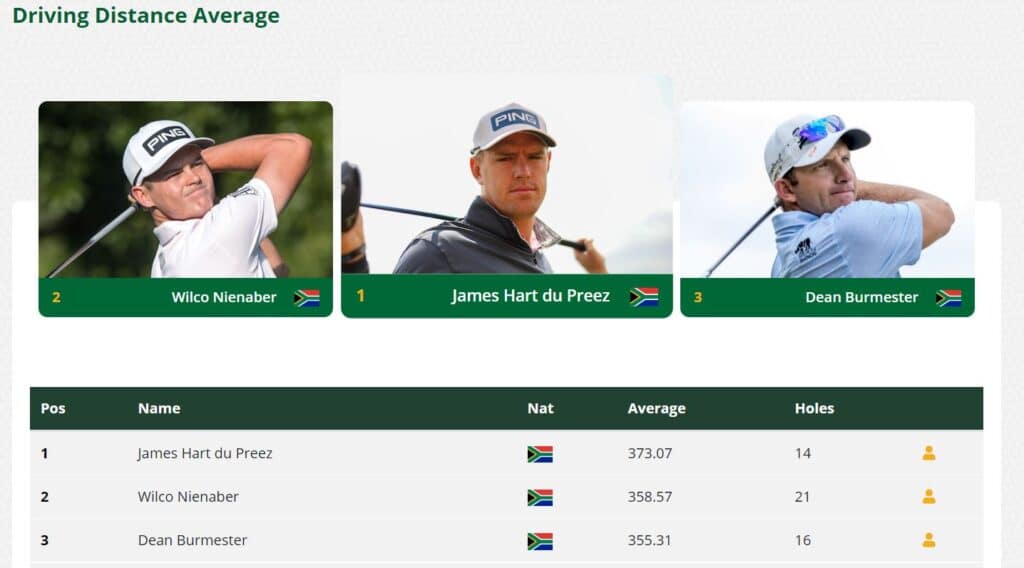 If you're wondering why these driving distance stats are borderline ridiculous, it's because a large number of Sunshine Tour events are played at altitude (Johannesburg is 800 meters above sea level). The fairways in Joburg tend to be quite hard (meaning lots of run) and the Sunshine Tour uses very few holes to calculate average driving distance. 

Regardless, if Wilco Nienaber were to go head to head in a long drive competition with James du Preez, he would come up short.
However, Du Preez's games is not on the same level as Nienaber's. He doesn't have a European Tour Card and his performances on the Sunshine Tour have been relatively average. With that being said, he is young enough to continue improving his game, and could become a regular contender on the Sunshine Tour if he improve his driving accuracy and short game stats.
The last point on James du Preez is that he's 8 inches taller than Nienaber, standing at a mammoth 6 foot 10. Given that he can go above 140 mph club head speed relatively easy, it's hard not to wonder if he should try his hand at long drive competitions. It could be a more lucrative endeavor for his physical characteristics and golfing skillset.