While the Titleist T300 and the Titleist T400 irons can both be classified as 'game improvement' golf clubs, there are actually some important differences between these iron sets. 
First and foremost, the T400s can be classified as super game improvement irons. They have extremely strong lofts, and feature as much game improvement technology as Titleist can pack into a reasonably good-looking iron head. 
The T300's are more like player distance game improvement irons. The lofts are strong, but not outrageous. They are basically extremely forgiving player distance irons that launch high with low backspin numbers. 
This recipe can work for a large number of players, especially mid-to-high handicappers that want an excellent combination of distance, forgiveness, and accuracy. 
Loft Comparison - T300 vs T400 Irons
| Product Name | Titleist T300 | Titleist T400 |
| --- | --- | --- |
| 4 Iron | 20° | |
| 5 Iron | 23° | 20° |
| 6 Iron | 26° | 23° |
| 7 Iron | 29° | 26° |
| 8 Iron | 33° | 29° |
| 9 Iron | 38° | 33° |
| P Wedge | 43° | 38° |
| G Wedge | 48° | 43° |
| S Wedge | 53° | 49° |
| L Wedge | | 55° |
If you take a look at the loft comparison table above, it should be clear that the T400 irons have much stronger lofts than the T300 irons. 
From the 5 iron to the 7 iron, there is a 3-degree loft difference between the sets. 
From 9 iron to gap wedge there is a 5-degree loft difference between the sets. 
To put this in perspective, that means that the T400's are at least one club stronger throughout the set.  In a way, this is a bit of mental trickery. The T400 5 iron is actually a 4 iron in disguise, from a loft perspective. 
The last point on lofts is to note that the T300 set goes from 4 iron to sand wedge, while the T400 set goes from 5 iron all the way to lob wedge (albeit a 55-degree lob wedge). 
Club Length - Titleist T300 vs T400 Irons
| Product Name | Titleist T300 | Titleist T400 |
| --- | --- | --- |
| 4 Iron | 39.00" | |
| 5 Iron | 38.50" | 38.50" |
| 6 Iron | 38.00" | 38.00" |
| 7 Iron | 37.50" | 37.50" |
| 8 Iron | 37.00" | 37.00" |
| 9 Iron | 36.50" | 36.50" |
| P Wedge | 36.00" | 36.00" |
| G Wedge | 35.75" | 35.75" |
| S Wedge | 35.50" | 35.50" |
| L Wedge | | 35.25" |
In terms of club length, the T300 and the T400 irons are exactly the same. You can verify this using the length comparison table above. 
The only extra point worth mentioning is that Titleist Irons are slightly longer than Ping irons by default but slightly shorter than Taylormade irons by default.  
In other words, there is nothing unusual about the physical length of Titleist irons. They are pretty much industry standard in this regard. 
Technically, the T300 irons actually cater to a much larger percentage of the golfing population. They are very well suited to mid and high handicappers, but you can also find them in the bag of some single-digit handicap players. 
The T300 irons are popular because they manage to pack a huge helping of game improvement technology into a relatively compact package. 
On the other hand, the Titleist T400 irons are designed for high handicappers and beginners with slow to moderate swing speeds. 
To summarize:
T300 Handicap Range: 8 – 20
T400 Handicap Range: 15 – 30
2. Designed For Different Swing Speeds:
If you consider that the lofts of the T400 irons, it should become very clear that they are designed to travel as far as possible. For instance, the loft the 7 iron (26 degrees) is 3 degrees strong then the T300 7 iron (29 degrees). This makes perfect sense, because slow swing speed players tend to struggle with distance. 
Conversely, the T300 irons are much better suited to moderate and high swing speed players. While the lofts are strong, they are comparable to most modern game improvement iron sets. 
To some extent, this also means that the T400 irons are better suited to older golfers (60+) that have lost a bit of swing speed over the years. By switching to the T400's they can rediscover some of that lost distance, and hopefully hit more greens in regulation. 
This point has been covered extensively, but it's worth repeating. 
The lofts of the T400 irons are 3 – 5 degrees stronger, depending on which particular iron you compare. With the lower irons, the gap is 3 degrees, but with the scoring irons (8 iron to gap wedge), the lofts are 4-5 degrees stronger. 
Long story short, there are very few irons in existence that have stronger lofts than the Titleist T400's. The lofts of the T300 iron are similar to most modern day player distance irons. 
Simply put, the T400 irons have larger heads than the T300 irons. This is partily why they are more forgiving, but it also makes them a bit chunky in comparison to the T300's. 
In this respect, the T300's are likely to have a longer shelf life in your bag, if your handicap is steadily improving. For instance, it would be perfectly reasonably to use the T300's, even if you're a single digit handicap. 
Conversely, the T400's may start to look a bit cumbersome after a few years. 
Ultimately, the T400's are bordering on chunky, whereas the T300's are lean enough to be classified as attractive. 
Titleist T300 Product Info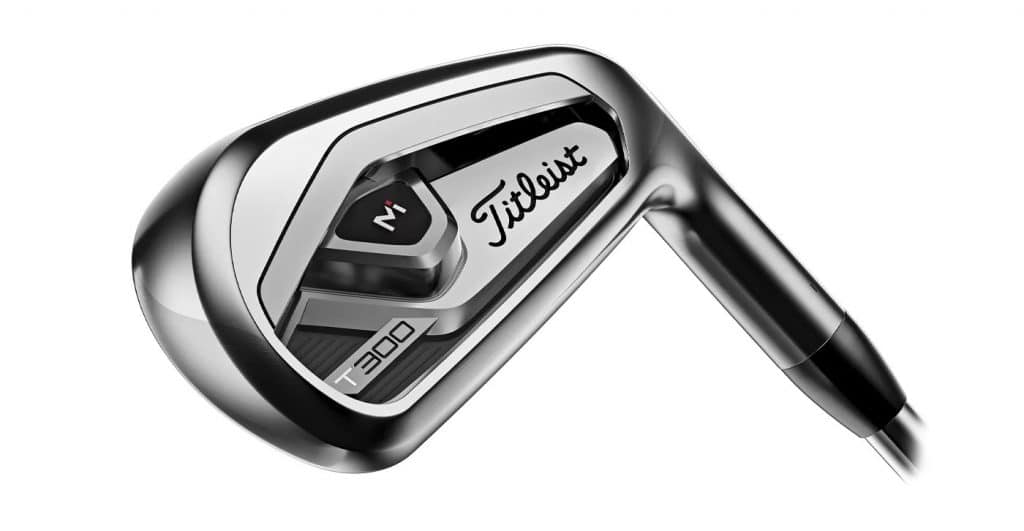 Muscle Under The Hood: Locked behind the T300 face lies a hidden power source. Our improved Max Impact technology now includes an enhanced polymer core that improves both the feel and mass efficiency of the club at impact, giving you more ball speed and better feedback.
Better Tungsten For Better Results: The New Titleist T300 irons not only feature 40% more tungsten, but denser D18 tungsten made viable by a 2000ºF brazing process applied from aerospace construction. This kind of premium production, normally reserved for Tour irons, leads to a solid-feeling, advanced design that produces the optimal balance of speed, launch and forgiveness.
Thinner Where It Counts: Proving that every detail matters, T300 now employs a variable face thickness design that is thinner towards the heel in the long and mid irons to improve performance at what is traditionally one of the least effective strike points. So even when you miss, you don't.
Please note – Product info source from Titleist T300 Product Page
Titleist T400 Product Info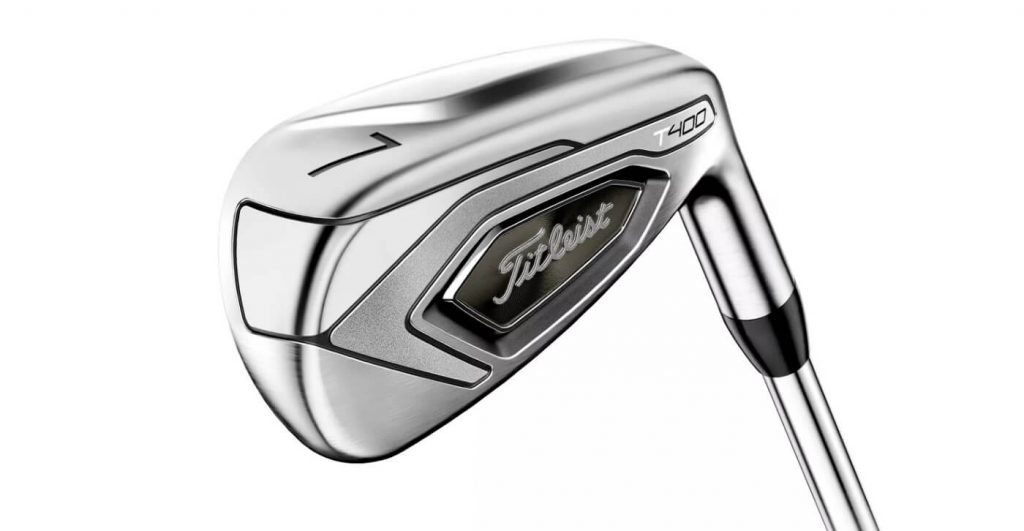 Better Performance from Every Detail: Every aspect of Titleist T400 irons is engineered to produce greater playing distance – starting with the incredibly fast Super Thin L-Face. The lower edge of the face wraps around the sole, maintaining ball speed even when impact is made lower on the face. Masterfully fused with a confidence-inducing head shape, it makes faster feel effortless.
Easy Launch: Up to 100 grams of high-density tungsten is strategically integrated into the heel and toe of the 5, 6, and 7 irons to lower the center of gravity and launch the ball high and far.
Smooth Turf Interaction: The innovative split-sole preserves the performance benefits of the wide-body design while sliding through the turf like a player's iron.
Extreme Forgiveness: The hollow construction allows weight to be moved where it can help you most, delivering outstanding MOI for shots that fly longer and straighter across the face.
Please note – Product info source from Titleist T400 Product Page
In the end, it should be pretty clear that these iron sets are designed for two different types of player. 
The T300's are for mid and high handicappers that want the ultimate combination of looks, performance and game improvement technology. They are forgiving, long and accurate, and they could even be used by single digit players. 
The T400's are for high handicappers and slow swing speed players that need all the help they can get to hit greens in regulation consistently. Said differently, if you struggle to hit the ball far, you should definitely consider the Titleist T400 irons.