It is worth pointing out that the following chart actually stems from the Sports Sensor Swing Speed Radar. However, people have come to associate the Sports Sensor chart with the SuperSpeed Golf Training System, because these products are directly connected to one another. Said simply, you can't really use the SuperSpeed Golf Overspeed training sticks without a swing speed radar to verify your clubhead speed.
For several years, the Sports Sensor swing speed radar was recommended by SuperSpeed golf, and you can even see SuperSpeed instructurs using the Sports Sensor  radar in their original training videos.
However, SuperSpeed Golf now recommends the PRGR Launch Monitor, which is about $110 more than the Sports Sensor
Amateur Golfers Clubhead Speed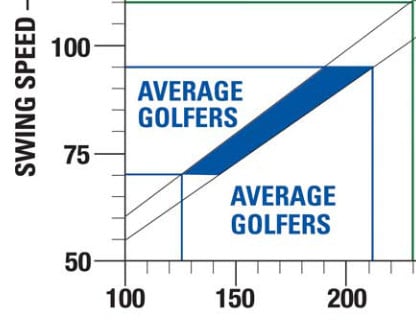 According to the SuperSpeed Golf Chart, Average male golfers swing their driver between 70 – 95 mph. Based on this data, you could say that the average male player has a swing speed of about 83 miles per hour.
It is worth noting that Trackman has slightly different data for average golfers. To be more precise, Trackman categorizes male golfers according to the following swing speeds.
Scratch of Better – 110 mph
5 HCP – 101 mph
10 HCP – 95 mph
Average Golfer (14.5) – 94 mph
Bogey Golfer – 92 mph
Elite Amateur Golfers Clubhead Speed
Based on the Swing Speed Chart, it's clear to see that there is a rather large gap between average golfers and tour pros. This is space is occupied by Elite Amateur golfers. These are players that have a high swing speed, and usually, a single digit handicap ranging from 0 to 9.
Obviously, there are some higher handicap players that will have a swing speed that falls within this bracket, but they usually have a problem finding the fairway, which makes it difficult to score well on a golf course.
With this data at hand, it's fair to say that elite amateur golfers tend to have a swing speed in the region of 105 mph. This places them firmly above an average golfer (83-94 mph) but not quite on the same level as a tour pro (about 113-114 mph).
As you can from the Sports Sensor Golf Chart, the starting point for tour pros is approximately 110 mph. To actually have a chance of scoring well on a golf course set up for professionals, you basically need a swing speed a driver at 110 mph or more.
The average swing speed of a modern PGA tour Pro is approximately 114 mph, and this speed has been increasing for the past decade. This is partly because distance off the tee is a massive advantage for amateurs and tour pros alike. Bryson DeChambeau has taken this philosophy to the extreme, but even if you ignore Bryson, and look only at players that have achieved the No. 1 ranking in the world, it's pretty clear that to be truly competitive in this sport, you need to be able to hit the ball more than 300 yards off the tee.
| Year | Clubhead Speed (PGA Tour) |
| --- | --- |
| 2021 | 114.42 |
| 2020 | 114.01 |
| 2019 | 114.17 |
| 2018 | 113.74 |
| 2017 | 113.85 |
| 2016 | 112.91 |
| 2015 | 113.25 |
| 2014 | 113.02 |
| 2013 | 113.15 |
| 2012 | 113.02 |
| 2011 | 112.83 |
| 2010 | 112.63 |
As you can see in the table above, the average swing speed on the PGA tour was 112.63 mph in 2010. In 2021, the average clubhead speed on the PGA tour was 114.42 mph. This is an increase of almost 2 mph, across the board.
These numbers suggest that it will become increasingly common for tour players to have a driver swing speed of 115 mph or more, as professionals continue to seek more distance through overspeed training, physical conditioning and refining their driver setup.
Long Drive Professionals Clubhead Speed
If you analyze the SuperSpeed Golf Chart, it becomes crystal clear that to be competitive as a long drive professional, you need a swing speed of at least 135 mph. This is significantly faster than a tour pro, and yet it is only the starting block for a long drive specialist.
According to Trackman, the fastest ever recorded clubhead speed in competition is 156 mph, by Connor Powers during the Quarter Finals of the 2014 World Long Drive Championship.
Kyle Berkshire (reigning world long drive champion) also has the ability to reach clubhead speeds in the region of 155 mph. This is the approximate clubhead speed that was recorded when Kyle set the ball speed world record of 233.4 mph.
It is also worth noting that Bryson DeChambeau was able to make the final 8 at the world long drive championship in 2021 because he can reach clubhead speeds as fast as 149 mph. This means that even by 'Long Drive Professional' standards, Bryson is up there with the best of them.
One of the reasons Bryson's distance off the tee is so impressive is because he never used to be particularly long. In 2017 he had an average distance of 299.4 yards. He now has the ability to hit the ball over 400 yards, provided the fairways are offering plenty of run. To go from a 300 yard guy to a 400 yard guy in the space of 2 years is phenomenal. It is a testament to how hard he has worked, and how much of his athletic potential he was able to tap into by following Overspeed training protocols and repeatedly pushing his body over the limit in physical training sessions. 
The last thing to say about Bryson is that rather than being envious of his newfound distance, it is better to be inspired by Bryson's increase in clubhead speed. It means that it is actually realistic for a normal golfer to gain 10 mph (approximately 25 yards) with their driver if they simply focus on Overspeed training for more than 6 months. 
In the end, the SuperSpeed Golf Chart provides a reasonably accurate representation of how fast amatuers, tour pros and long drive professionals can swing a golf club.
The only slight issue with the chart is that it is a touch slow for the average male ametuer (83 mph). From our perspective, combining the data from trackman and Superspeed Golf actually works out best. Based on the combined data, it's fair to say that an average male golfer swings their driver between 83 mph and 94 mph.
This means that an average male golfer with a reasonably high swing speed (94 mph) is on par with an average LPGA Tour player in terms of clubhead speed (also 94 mph).