In this comparison between the Ping i210 vs i500, we provide a full breakdown of stats, specs, video reviews and product technology to help aid your purchase decision. But before we get into the nitty-gritty, it's worth providing a succinct summary of what each iron is about. 
Ping i210 irons – Built for mid and low handicaps that want soft, buttery feel, maximum accuracy, and reliable distance control. 
Ping i500 irons – Player distance irons that launch high with low spin. Basically a game improvement distance iron in a beautiful compact design. After casting your eye upon these irons, wet dreams may ensue in the days after your first sighting. They are hotter than Pamela Anderson in her prime. 
Loft Comparison - Ping i210 vs i500 Irons
When looking at the loft comparison in the table above, it's important to note that loft is not the only reason the i500's will travel further than the i210's.
Designed For Distance: The other major reason the i500's are longer is explained by the hollow head design. This effectively means that each clubhead in the i500 set has a 'hot' face. Ping isn't exaggerating when the company describes it as 'metal wood technology'.In other words, the stronger lofts, hollow head design, and hot maraging steel face all combine to create a seriously powerful iron, assuming that distance is one of your main concerns. 
That Pure Buttery Feel: In contrast, the end-goal of the i210's isn't purely based around distance, although it should also be clear that the lofts are considerably stronger than 'traditional lofts'. You simply need to cast your eye to the 9 iron, pitching wedge and gap wedge lofts, which are basically exactly the same as the i500's (except for the 9 iron having 1 more degree of loft). 
Instead, the i210's are built to offer a more classic combination of feel, shot shaping and precision, without lagging in the distance department. If you want irons that feel exceptionally pure, look great at address, and provide more precise distance control, the i210's are probably the better bet. 
Length & Lie Comparison - Ping i210 vs Ping i500 Irons
Length 39.00" - Lie 60.0°
Length 39.50" - Lie 60.0°
Length 38.50" - Lie 60.5°
Length 38.875" - Lie 60.5°
Length 38.00" - Lie 61.0°
Length 38.25" - Lie 61.0°
Length 37.50" - Lie 61.5°
Length 37.625" - Lie 61.5°
Length 37.00" - Lie 62.0°
Length 37.00" - Lie 62.0°
Length 36.50" - Lie 62.8°
Length 36.50" - Lie 62.8°
Length 36.00" - Lie 63.5°
Length 36.00" - Lie 63.5°
Length 35.50" - Lie 64.1°
Length 35.50" - Lie 64.1°
Length 35.50" - Lie 64.1°
Length 35.50" - Lie 64.1°
The most noticeable difference between the i210's and the i500's in terms of club length is that all the longer irons are a touch longer than the i210 equivalent. More specifically, the 3 iron, 4 iron, 5 iron and 6 iron are all marginally longer, which will further contribute to the distance you can hit the ball, and the clubhead speed generated by the iron. 
This might seem like nit picking, but an engineering company like Ping knows fully well that additional clubhead speed will help give you a towering ball flight with the longer irons specifically. 
Ping i210 Irons - Key Technology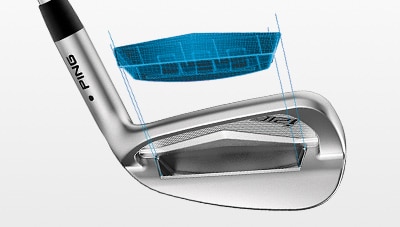 The activated elastomer insert is much bigger in volume and 50% softer, creating 25% more face contact, ensuring a pure feel at impact while also returning more energy to the ball.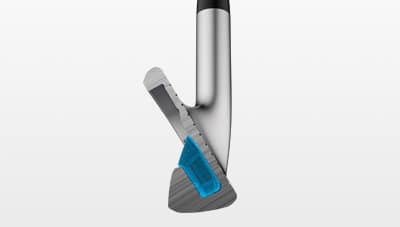 The additional volume of the custom tuning port, which also increases perimeter weighting and provides swingweight finetuning, allows for a 30% larger insert and creates 25% more face contact, resulting in activation of the elastomer to ensure a soft, pleasing feel.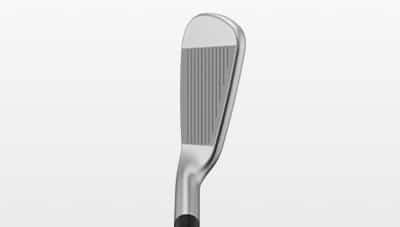 A refined, more compact shape and look combined with minimal, progressive offset help convey the high-end appeal of the set.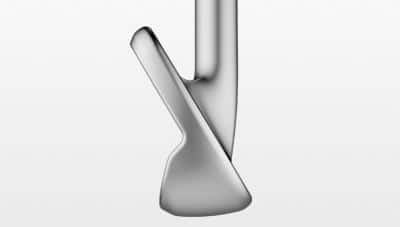 The lead edge and sole profile were enhanced to improve turf interaction for distance precision with workability. A HydroPearl Chrome 2.0 finish repels water to greatly improve consistency from the rough and wet conditions.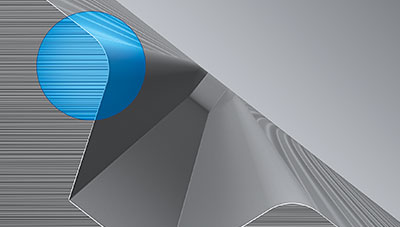 Mirroring the Glide 2.0 specs, a sharper edge radius and tighter groove spacing in the pitching wedge and U-wedge provides greater precision and help prevent fliers on shots where control matters most.
Ping i500 Irons - Key Technology
Powerful Maraging-Steel Face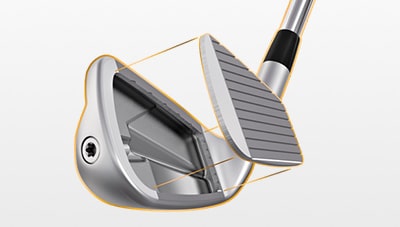 A forged, C300 maraging-steel face combines with a 17-4 stainless steel body for metal-wood-like performance, resulting in faster ball speeds and much longer, higher-trajectory shots with stopping power.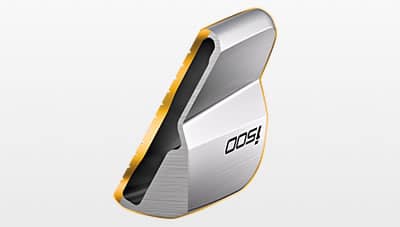 The muscle-back geometry helps to hinge the precision-milled, forged, C300 maraging steel face, which flexes, adding dynamic loft while increasing ball speed, trajectory and distanc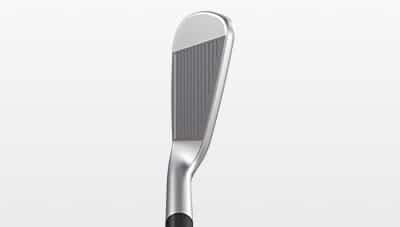 The clean, blade-style shape with minimal offset produces so much speed and distance that you'll be able to hit one less club into greens.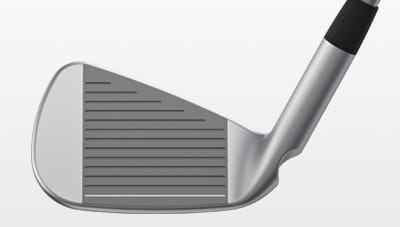 The face and grooves are precision-milled to provide a flat surface for ensuring consistent ball speeds and reliable ballstriking. 
HydroPearl Chrome 2.0 Finish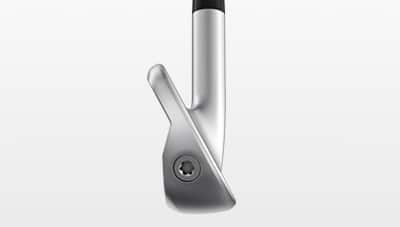 This premium finish helps ensure impact consistency and distance control from the rough and wet conditions while adding to the high-end appeal of the club.
Ping i500 Irons - Pros and Cons
The i500's are super long
They are absolutely gorgeous
They launch high with relatively low spin
They can give you good distance control, even into the wind
The i500's are pretty expensive
They aren't the most forgiving player-distance irons
Some players don't enjoy the sound
You can lose a bit of feel with the shorter irons
What People Are Saying About the i500 Irons
"Strong lofts, combined with the right shafts, deliver a towering ball flight, extra ball speed and plenty of carry. This is a brilliant hollow design, that sits nicely on the fence between player and game improver models." TodaysGolfer.co.uk
"If you took the best characteristics of the company's i200 and G700 irons and melded them, you might get the i500. The iron's hollow structure and forged, heat-treated, high-strength steel face insert allow for five times the bending of the face at impact compared to a cast iron. This leads to a distance boost with a higher launch angle." Golfdigest.com
"Ping i500 irons are a compact, blade-style iron with some of the same ball-speed-enhancing technology as the G700 irons for, as Ping describes it, "unprecedented speed, power and distance." This basically means the metal-wood-like construction and strong lofts (for Ping's standards) help your 7-iron maintain its typical height and control, but get the distance of a 6-iron." Golftec.com
Video Comparison - i210 vs i500
Today's Golfer - Video Review
If you watch either of the two video reviews above, one thing should become abundantly clear. The i500's will give you between 8-12 extra yards of carry, mainly because of:
Lower lofted clubface
Less backspin
Increased ball speed
However, it is also pretty clear that the i210's will give you better distance control, additional backspin to help stop the ball, and more accuracy from the fairway and out of the rough. In other words, the i210's are the better choice for players that want maximum control, whereas the i500's are the better choice for players that want maximum distance.