I have a confession. At some point in the last 3 years, I lost my confidence with a 3 hybrid in my hands. This is despite my swing feeling very solid with driver, 3 wood, and every single iron in the bag. 
As a result, it became clear to me that the Ping G425 2 Iron Crossover could be the perfect replacement for my 3-hybrid. I'm happy to report that my inclinations were justified.  Putting this club in the bag is one of the best golf equipment decisions I have made in the last 5 years. 
Why I decided to buy the Ping G425 2 Iron Crossover
To Reach More Par 5's In 2
Simply put, I'm on a drive to make as many birdies as I can in this lifetime. Hitting par 5's in 2 shots is by far the easiest way to make birdies on most golf courses. It's arguably the biggest difference between amateurs and professionals in terms of scoring average. Intuitively, I feel like an easy-to-hit 2 iron can help lower my par 5 scoring average. 
It's A Great Club For Short And Tight Par 4's
There are certain par 4's that simply don't require a driver. The 11th hole at my home club is a good example. It's reachable with driver, but there's a water hazard that hugs the green on the left, and a lateral hazard just past the green side bunkers on the right. You can take that shot on, or you can play it safe with a 3 wood or 2 iron. I now have the perfect lay up club for short par 4's, where I can eliminate almost all the hazards that come into play with driver.
It's An Excellent Club When Facing Powerful Headwinds
It's amazing how off-putting a strong headwind can be (especially if they have a left-to-right twinge). It can inject fear into your body, and destroy your balance and timing in an instant. In these conditions, a 2 iron can be a lifesaver. 
The option to play a low bullet that doesn't get murdered by the wind is one of the best benefits of owning a 2 iron. It might be the single greatest advantage that this club choice has over a similarly lofted hybrid or fairway metal. There's no better club for achieving a low, penetrating ball flight that still travels a good distance. 
I'm A Strong Iron Player, And Now I Have An Extra Iron In The Bag
Iron play has always been the best feature of my game. Even when I was struggling with a reverse pivot and a collar bone issue, I was still pretty lethal with an iron in my hands. 
Now that my swing is in a much better place (thanks largely to the swing philosophy of Mike Malaksa and Joe Nichols), my iron play has become more reliable than ever. 
All of this makes the decision to put a 2 iron in the bag a no-brainer. When hitting off the deck, I feel more comfortable with an iron than I do with a hybrid or 3 wood, and I'm definitely more accurate. Based on this, putting an extra iron in the bag that travels just as far as a 5 wood makes perfect sense. 
2 Irons Are Easier To Hit Than Ever Before
In this respect, Ping have been truly innovative. The days of needing god-like talent to hit a 2 iron are well and truly in the past. Provided you have a decent amount of clubhead speed to play with (ie 90+ mph with your driver), you should find that a modern 2 iron is definitely worth testing. 
Ping has effectively injected the technology of their hybrids into the clubface of an iron. That's why it's called a crossover. You don't need to be Tiger Woods to hit a stinger with this badboy. Solid contact and decent clubhead speed are the only requirements. 
I'm Tired of Hitting My 3 Hybrid Short And Right
I'm not entirely sure why my relationship with my hybrids has become so salty. It could all be mental, but I suspect that I have a tendency to open up the clubface at address (when holding a hybrid), and I also feel like the weight of the head exacerbates my tendency to get the clubhead stuck behind me on bad shots. 
Fortunately, I find it very easy to set the Ping G425 2 Iron Crossover square to the target. The black clubhead combined with the white grooves makes squaring the clubface at address very intuitive. 
I'm A Big Fan of Ping Golf Clubs
I've gamed my fair share of Taylormade and Titleist golf clubs in the past (I still play Taylormade irons), but it's safe to say that Ping have converted me into a brand evangelist. I absolutely love the Ping G410 driver and G410 3 wood that both reside in my bag.  Adding another Ping engineered scoring weapon to the mix fills my heart with joy, literally. I'm on a mission to convert my irons and wedges to Ping in time. It's only my putter that I won't swap (there's no way I'm letting go of the Taylormade Spider X). 
You Have To Choose The Right Shaft
Due to stock issues, Ping delivered the Tour 85 Stiff Shaft, rather than the Ping Alta CB 70 stiff shaft that I was hoping to receive. I was apprehensive about this shaft, primarily because I had to change from the Ping Tour 65 to the standard Alta CB in the Ping G410 driver (the difference was night and day in terms of performance).
To get maximum distance and performance with a 2 iron, you need to generate an adequate amount of backspin. If the shaft is too stiff, you may end up hitting ultra-low bullets that are only useful on the windiest of windy days. My first range session confirmed that the launch conditions of the Ping Tour 85 were simply too low for me. I needed the extra speed (due to shaft weight) and the higher launch conditions of the standard stiff shaft (Alta CB).
Based on this, I would recommend the following:
Choose the shaft that best replicates what you currently have in your driver and your 3 wood. Because it's such a low lofted iron (18 degrees) you need to give the club the speed it needs to unlock that stinger ball flight.   
Furthermore, I'm glad to report that after making the switch to a shaft that better matches my swing speed, this club quickly transformed into the magical beast that I always knew it was.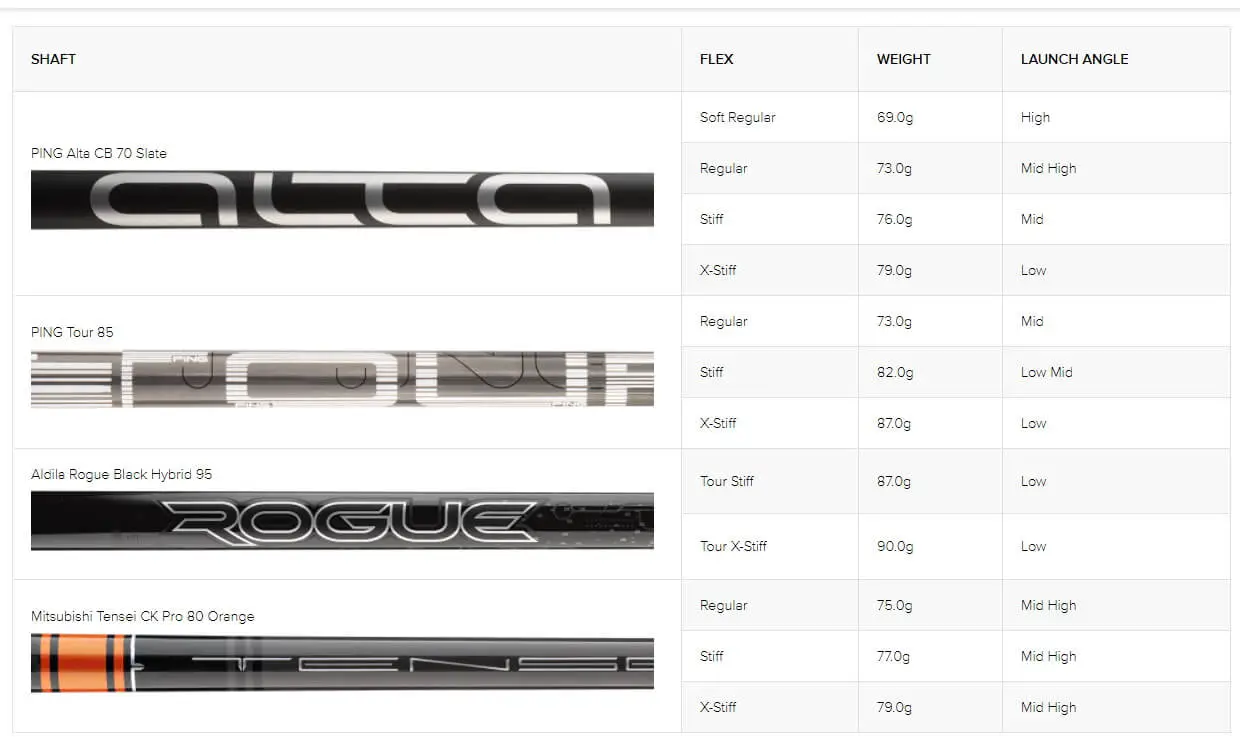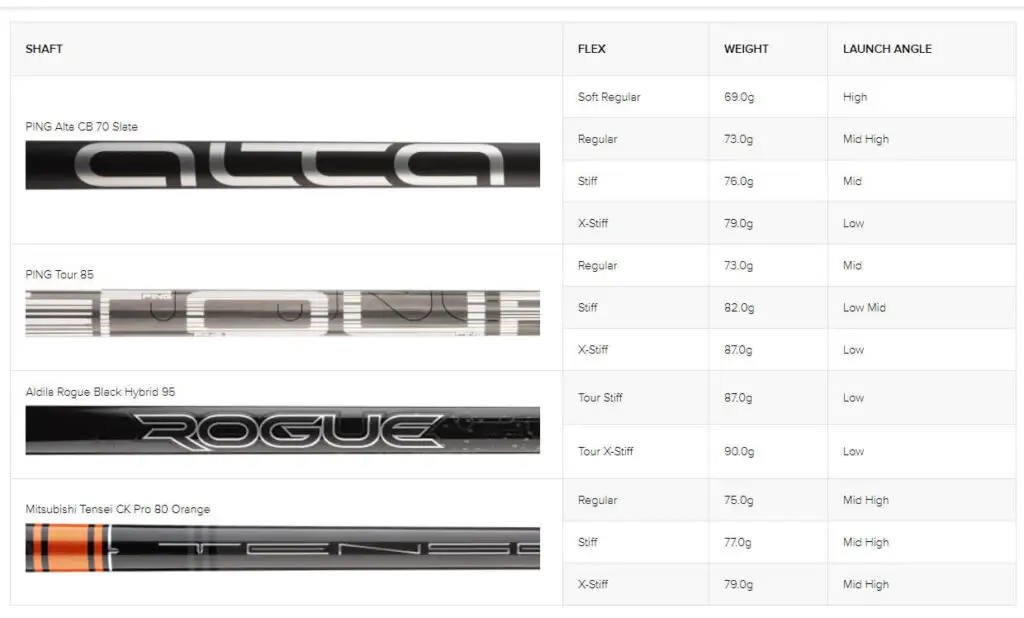 As you can see from the image above, there are a bunch of different shaft options. Based on my experience, it makes sense to go for a shaft that can deliver a mid or mid-to-high launch angle. This is particularly important if your maximum swing speed ranges anywhere from 90mph to 110mph (with the driver of course). 
If your maximum swing speed is faster than 110mph, then you can consider the Tour Stiff and X-Stiff shaft options, which will provide a lower launch angle and a more penetrating ball flight. 
Potential Issues You Need Be Aware Of
Your swing speed might prevent you from unlocking the benefits of this club
In my opinion, you need to be swinging your driver 100+ mph consistently to really unlock the potential of a 2 iron. That being said, if you're in the 90+ mph zone, it's still worth considering, especially if you're a strong iron player and you aren't fond of hybrids and 5 woods. 
This is mainly because you need to impart a decent measure of backspin and clubhead speed in order for the G425 2 Iron Crossover to carry significantly further than your 4 iron. If you fail to impart enough backspin, and you don't swing the club fast enough, you might find that your 4 iron (or 4 hybrid for that matter) carries a similar distance. 
Obviously that's not the intention of this club. It's effectively a driving iron that should be closer to your 3 wood than your 4 iron in terms of distance off the tee. In my case, the 85 Gram Pro Stiff Shaft was impeding my ability to use this club correctly. Fortunately, as soon as I switched to the standard stiff shaft (Alta CB 70 grams), I started striping powerful, penetrating draws without trying to force the issue. It is a tremendously satisfying club to hit. 
Stopping the ball quickly can be a challenge
Provided the fairways and greens aren't wet, you can expect a 2 iron with a hot face to chase a little bit after it hits the ground.  This isn't a problem when you need the distance, but it can make stopping the ball quickly on the green a bit of a challenge.
This is probably the number one reason more tour pros don't game a 2 iron. They can usually get the ball to launch higher and stop faster with a 5 wood. In my case, it doesn't really bother me. I just need the ball to travel somewhere in the region of 230 yards in most cases. The G425 2 Iron gives me this ability. 
It's less forgiving than a hybrid, but a lot more accurate in the right hands
With a hybrid in your hands, it's much easier to get away with fat shots, and it can be easier to launch a hybrid out of the rough.
For the Ping 2 iron crossover to truly perform, you have to make good contact with the ball. Fortunately, this hasn't proved to be too much of an issue for me (for now at least). I find it easier to hit this club off the deck than my 3 wood, and I have much more confidence in my accuracy than I do with my current 3-hybrid. In other words, it's giving me the best of both worlds. The accuracy of an iron combined with the ball speed of a hybrid. Again, the term crossover makes sense when you look at it from this perspective. 
The Black HydroPearl Finish Wears Relatively Quickly
This is more of an annoyance than a technical issue with the engineering of the club. While the black finish is delightful at first, you will find that it wears off relatively quickly (give it 10+ rounds). 
On this point, it's worth mentioning that only Cobra have managed to produced black irons that actually retain their color for an extremely long time. Sadly, Ping haven't replicated Cobra's 'DBM (Diamonized Black Metal) Technology process that chemically implants the black finish throughout the club'. Instead, they have just used PVC(polyvinyl chloride), which is known to fade after time. 
I guess what I'm trying to say is that it would be great if Ping made G425 crossover clubs in silver. From a branding perspective, the black look is awesome, but from a club owner perspective, it's irritating to know that the look is only temporary. This is my only gripe with the Ping G425 2 Iron Crossover.  
Even though the Ping G425 2 Iron Crossover is one of the most forgiving 2 irons you can buy, it's still a 2 iron. If you don't make a good swing, this club will let you know very quickly. 
On this point, it's fair to say that you have to be a pretty low handicap golfer (or have a ridiculously fast swing speed) to consider putting a 2 iron in the bag. You don't have to be a semi-professional or anything, but you need to be a solid ballstriker to get the most possible value out of this club. 
Good for reaching Par 5's in 2
Good for super long Par 4's 
Good for super long Par 3's
Excellent club into headwind
Well suited to strong iron players
As forgiving as 2 iron can be
Less forgiving than a hybrid
Harder to stop than a 5 wood
Punishes bad swings
Requires a fast swing speed
Might not produce enough backspin for some players
Many players struggle to hit long irons
When all is said and done, I'm very pleased with the performance of the Ping G425 2 Iron Crossover. I hit it further than my 3-hybrid, and my accuracy is significantly better as well. As a strong iron player, it's the perfect complement to my game, and I find it easy to hit powerful, penetrating draws with notable consistency. Ultimately, I'm very happy to own this golf club. 
In short, yes. Ping currently manufactures three 2 irons, namely:
Ping G410 2 Iron Crossover
Ping G425 2 Iron Crossover
Ping Blueprint 2 Iron
Then they also produce the i500 3 iron, which has the same loft as a standard 2 iron (18 degrees). 
What is a crossover iron?
A Crossover iron is a long iron built with the technology that is typically found in fairway woods and hybrids. This boils down to:
Tungsten toe and hosel weights to make the club more forgiving
A thin, hot, super-powerful face that can deliver ball speeds that are comparable to a wood/fairway metal
A long graphite shaft (rather than a steel shaft), which decreases the weight of the club and increases the clubhead speed that you can achieve