Why I choose the Ping G410 3 Hybrid?
I'll cut straight to the chase. I gamed a Taylormade RBZ Tour 3 Hybrid for about 8 years. It gave me many beautiful shots over those years, and I always found the distance to be exceptional.
However, over a period of about 6 months, I started to develop a big miss to the right, with the RBZ 3 hybrid specifically. Every other club in the bag would come out pretty solid, with a fairly reliable draw. Every club except my bloody 3 hybrid.
Naturally my confidence started to wane, and thoughts of a newer, shinier more reliable 3 hybrid started flowing through my brain. At this point, I need to mention that I switched to the Ping G410 9 Degree Driver in early 2019, and it is by far the best driver I've ever used, and arguably the best club I have ever owned.
Given my overwhelmingly positive experiences with the G410 driver, it made sense to consider the the Ping G410 3 hybrid as a replacement for the RBZ tour 3 hybrid. I managed to source a demo version for 2 weeks during the festive season, and the put the club to work on the course.
Let's just say that it did not disappoint. I still have that shot out to the right every now and then, but it is far less severe. More importantly, the general shape of the G410 3 hybrid matches up with the rest of my clubs, meaning a fairly reliable draw, with the occasional push fade to the right (mainly caused by swing and timing errors on my behalf).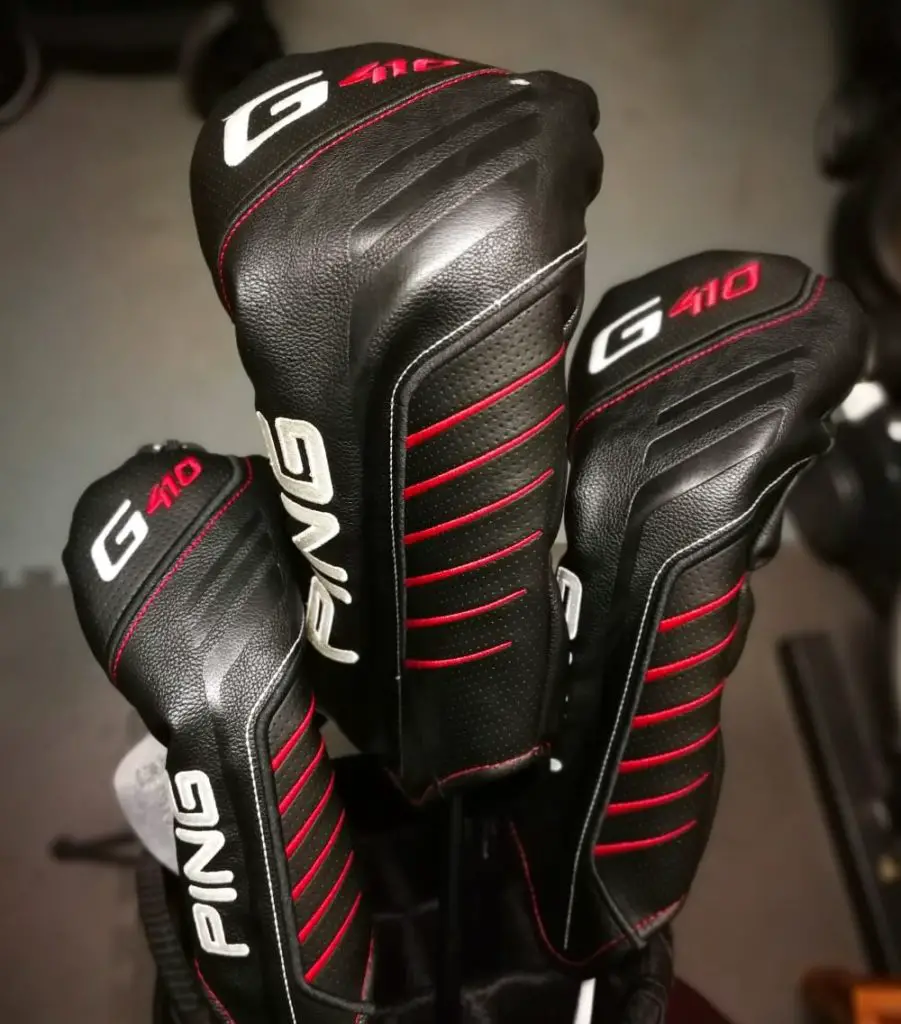 Ping G410 3 Hybrid – Best Features
In my opinion, these are the best features of the G410 Rescue.
It sets up nice and square to the target
The clubhhead inspires confidence at address
The shaft is so short, it feels like you have a mid-iron in your hands
It launches high and lands soft
I find it easy to hit draws with this hybrid
The distance is very respectable
Having the option to customize the setup (if I need to), is very reassuring
It's worth hammering home the last point, because the customization options greatly reduce the risk of buying a club that doesn't work for you in the long run. For instance, if the club is coming out too low, you can increase the loft by up to 1.5 degrees. If you're missing everything to the left, you can make the G410 hybrid up to 3 degrees flatter, which is probably the fastest way to cure a hook (using equipment at least).
In other words, you don't have to worry about investing in a club that might fall out of favour later down the line. If the club starts producing funny shots consistently (like my RBZ tour's rockets to the right), you can fine tune the setup to help eliminate the undesirable shot. Of course this logic applies to all adjustable golf clubs, but in the case of the Ping G410, the customization options really are impressive.
Ping G410 Hybrid Club Technology
The following information on the club technology is sourced directly from ping.com.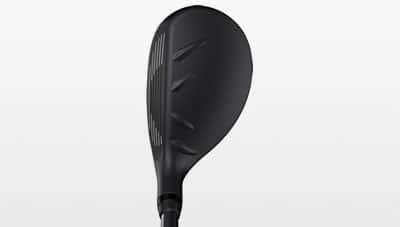 Larger Profile Club Head
A larger head provides added stability and helps elevate MOI 6.5%.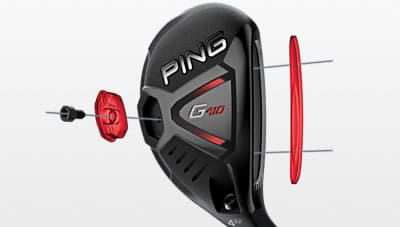 High MOI, Fast Face
A deeper, high-density tungsten back weight creates extreme perimeter weighting to maximize forgiveness in the larger-profile head.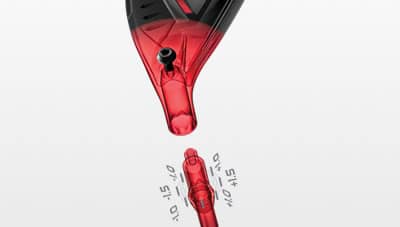 8 Customization Options
Trajectory Tuning 2.0 utilizes a patented, lightweight aerodynamic hosel sleeve that you adjust to influence ball flight while ensuring proper gapping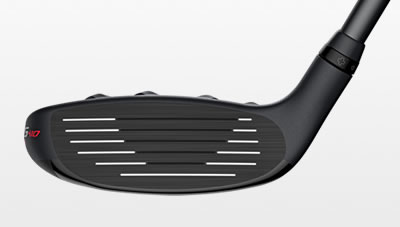 Reduced Spin Grooves
The face is textured to reduce spin, and the painted grooves help frame the ball at address.
Sidenote – Even though the customization options are legitimately awesome, I currently have the hybrid set to the default setting of 19 degrees, with a neutral lie angle. I can work it both ways if need be, but it works really well for my stock standard draw.
Main Drawbacks of the Ping G410 3 Hybrid
Despite how much I love this club, there are two drawbacks worth pointing out.
Drawback 1: It takes a while to get comfortable with the shaft length
The shaft length is like a blessing and a curse. When hitting from the fairway or the rough, you should find the shorter shaft gives you more control rather than less. However, it may take you a few sessions at the range to adjust to the 40 1/4 shaft, especially off the tee. If you're current hybrid is quite old, be prepared for an entirely new sensation if you put this club in the bag. It literally feels like you're holding a mid iron in your hands. You will probably need a bit of time to adjust to it.
Drawback 2: It's not ridiculously long, like some reviewers have suggested
Distance wise, the G410 3 hybrid is very similar to what you would expect from the Taylormade Sim Max 3 Rescue or the Cobra King SpeedZone 3H Hybrid. It feels amazing, launches high and lands soft, but it's not some kind of distance monster that will threaten your 3 wood any time soon.
Sidenote – I was shocked to see Ricky Hatton gaming a 7 wood en route to victory at the 2020 Arnold Palmer Invitational. I was even more shocked when I realized that a 7 wood and a 3 hybrid are basically the same club, from a loft and distance perspective. In effect, this basically means that I also play with a 7 wood, and that is very humbling to my golfing ego.
Does it suit players who prefer a draw?
From my perspective, yes. One of the main issues with my old RBZ tour hybrid is that the face seems to setup slightly open to the target. Fortunately, the Ping G410 hybrid doesn't share this affliction. It sets up very square behind the ball, and this makes it easier to produce draw shots consistently.
And what about people who prefer a fade?
If your preference is to play a cut, you might be worried that the G410 hybrid's face is too square, or even a touch closed in the standard position.
Fortunately, Ping are very aware of how many good players prefer a slightly open clubface. If you want set the club up to encourage a left to right ball flight, you can:
1 Lower the loft – This will make the club face slightly more open than it would be in the default setting.
2 Change the lie angle to one of the flat settings – A flatter lie angle will encourage a fade. A steeper lie angle will encourage a draw. You literally have this option available to you with the G410. But… activating this setting actually isn't that intuitive. I will explain how to do so next.
How do you set the G410 hybrid to the flat settings?
I'm going to hazard a guess, and suggest that you've taken a look at Ping's tuning chart for the hybrid specifically.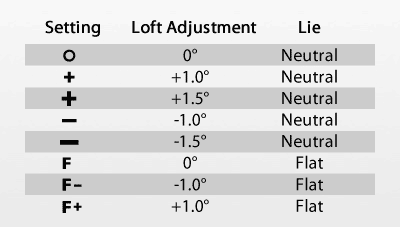 The tuning chart above looks pretty simple, but there's one issue. In order to actually see the flat settings, you actually have to take the entire club head off, like this.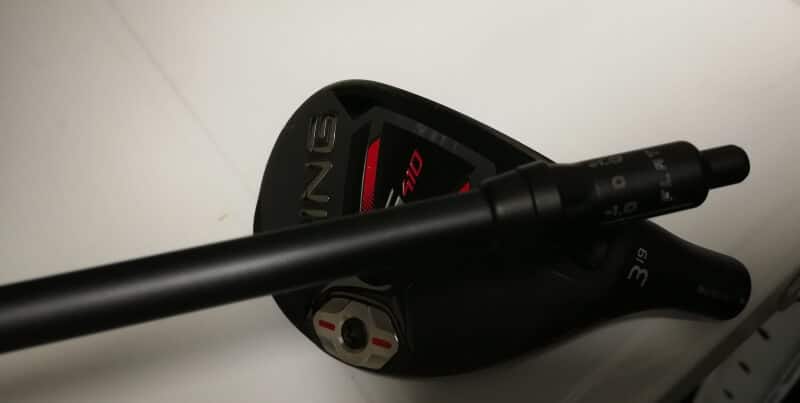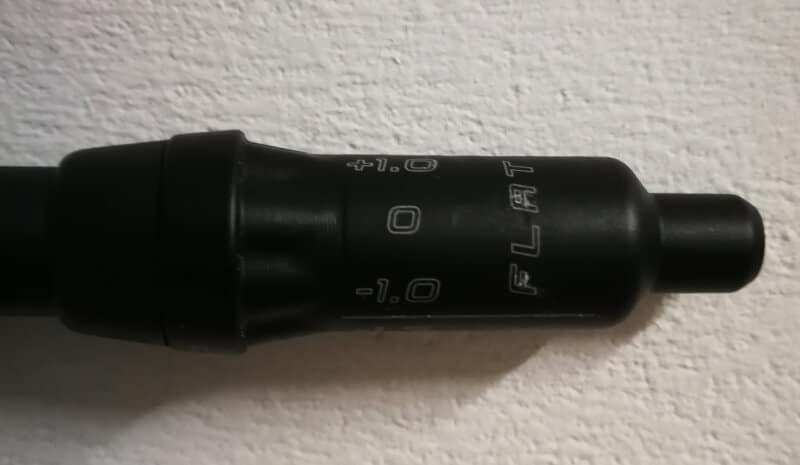 Now you can finally see where those bloody F (Flat) settings are hiding. At this point, you might be feeling enlightened. My mind was also blown when I finally discovered how to access these invisible settings.
Final Thoughts
All in all, it took me some time to get comfortable with how short the shaft length is.
However, once you make the adjustment, the G410 3 hybrid basically feels like a 7 iron that you can launch 210+ yards without even blinking.
It has helped me get rid of the 'rocket to the right' that was plaguing my game with the RBZ tour hybrid.
Ultimately, I am very happy with this club. When I see adverts for other hybrids (like the Callaway Mavrik for instance) I don't feel any club envy whatsover. I can see the G410 hybrid being a prominent feature in my bag for at least 5 years, if not longer. That's a good thing. All I can say at this point is well played Ping.