Why Did I Order the Big Seven Arm Lock Putter?
In short, because I haven't felt comfortable over short putts for years (even though I have improved dramatically with the Flat Cat Grip and the Taylormade Spider X combination). 
After writing an article on how to use an arm lock putter, I became convinced that the stability provided by an Arm Lock Putter is worth experimenting with permanently. To me, it seems plausible that the putting pendulum (the putting triangle maintained between your arms and the putter head) is simplified by the Arm Lock putting method.
I ordered the Odyssey Stroke Lab Big Seven Arm Lock Putter to put these ideas to the test.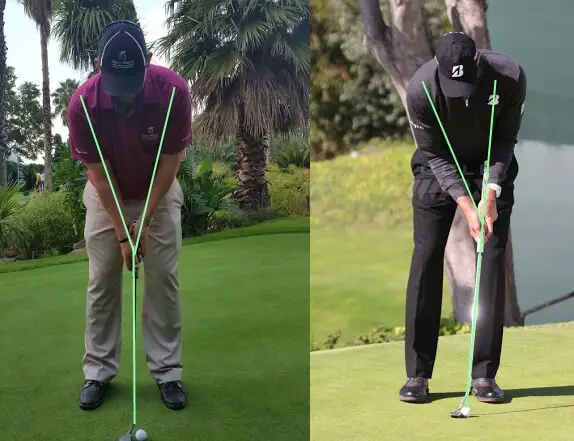 You don't have to release the putter head past your hands. Instead, you just have to maintain the pendulum that you establish at address, using your shoulders and torso to rock the putter head back and through. This is why it has the potential to be such a good cure for the yips, and ultimately why I decided to order the Odyssey Big Seven Arm Lock Putter. 
What does it feel like to use an Arm Lock Putter?
What you really want to know is does the stroke feel overyly mechanical. The truth is, this putting style is very mechanical and it will take you some time to make the switch. 
Before the Big Sevel AL arrived, I was having fantasies of dropping my average strokes per round by 3 or 4 shots. In reality however, I was forced to accept that transitioning to the armlock method is a challenge. It doesn't feel as natural as a normal putter, and I expect it to take several months before the stroke starts to become as fluid and seemless as my standard stroke.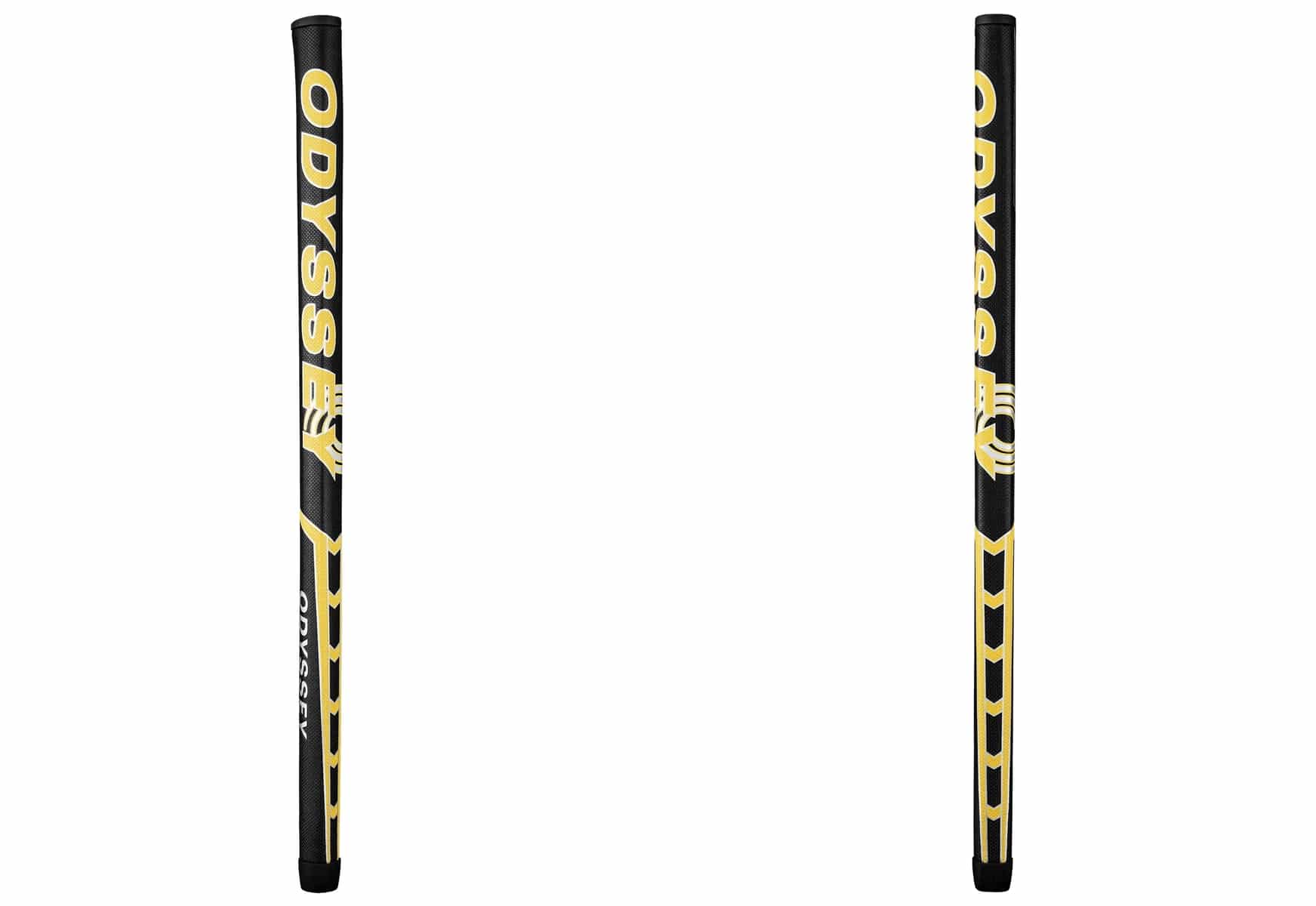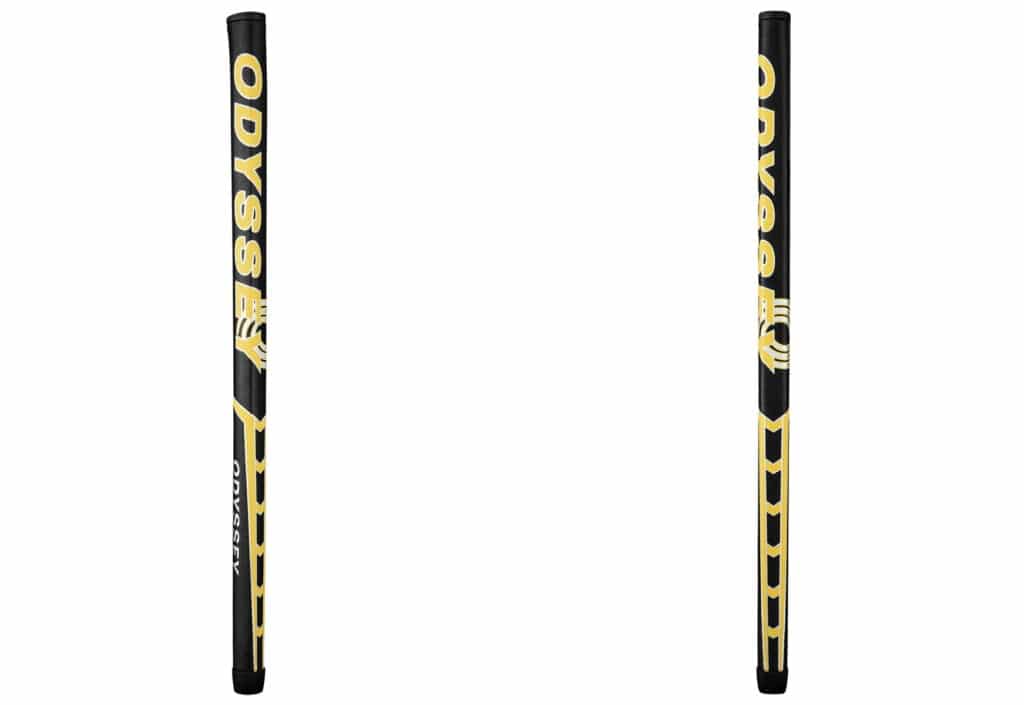 Unfortunately I find it difficult to putt with pencil thin grips. Since installing the Flat Cat putter grip in a vertical position on my Taylormade Spider X, every other putter grip feels tiny in comparison. 
In the case of the Oydssey Big Seven Arm Lock Putter, I do find the grip feels too small  in my fingers, and when pushed against the inside of my left wrist. Based on this, I think the JumboMax 17 grip that Bryson DeChambeau uses is a better option for most armlock putters, and I will be ordering one. 
With that being said, if you are comfortable with pencil grips or pistol grips, you will probably be fine with the 21″ default grip that is installed into all Odyssey Armlock putters. For me though, I have to order to the JumboMax 17 or the Super Stroke Arm Lock grip, in order to give this style of putting a proper go. 
How I hold the Odyssey Big Seven Arm Lock Putter?
My expectation was to use the claw grip like Webb Simpson does. However, I also find it very comfortable using a standard putting grip, with both index fingers running down the shaft (a bit like Ian Poulter holds the putter). When holding a standard putter, this grip feels far too weak and flimsy for my shaky hands, but when holding the Arm Lock putter like this, it feels very secure. 
Then with my arms, I'm not quite as severe as Bryson Dechambeau (he holds both of his arms fully straight), but I did find that taking some cues from Bryson's technique was helpful. In other words, my arms are much straighter than they are when holding a normal putter. The length of the grip makes it relatively easy to straighten your arms, and it definitely helps stabilize the putting pendulum. 
To gain a better understanding of what it feels like, put your palms together and straighten your arms. Now just move your hands back and forth. That's pretty much what it feels like using an Arm Lock putter. 
Side note – I have continued to dabble between the claw grip and a traditional grip. As I play around more and more, the claw looks like it's going to when this battle. My stroke feels much more natural when using the claw. It's just that the grip is so thin, it doesn't feel secure enough in my hands. I'm hoping this will change when the JumboMax 17 fat grip arrives. 
What is the transition period like?
Everything feels slower than my normal stroke
Using an arm lock putter is like the diametric opposite of Brandt Snedeker's pop stroke. The weight of the putter head (410 grams) also contributes to this. The net result is a slow but steady stroke. 
Mid range putts feel very comfortable
Anything from 10-20 foot feels very good. Provided there isn't a huge amount of break, when I setup to a 15 footer, I know that I have a reasonable chance of making the putt. On my first practice session with the Big Seven Arm Lock putter, I drained a number of 15 footers, often consecutively. 
It's a bit harder to judge distance on lengthy putts (20+ feet)
This is where I definitely need to do some work. Because the stroke is slower, you really do have to take a much longer backswing and follow through in order to get the ball to the hole when facing lengthy putts.  
Short putts feel pretty good
The added stability is definitely a bonus on short putts. That being said, I need to put some serious practice into 2-5 footers. Half the reason I order this putter was because of the potential to eliminate the yips (perhaps even the memory of the yips). The only way to do that is with some serious practice time and 10+ rounds without missing anything less than 2 feet. 
Final Thoughts + Honest Revelation
I waited a long time to receive the Odyssey Stroke Lab Black Big Seven Arm Lock Putter. Eight long weeks to be precise. When I eventually put it to the test, I was expecting to hole everything I looked at. In reality, transitioning to an arm lock putter has proved to be more difficult than I anticipated. 
In the end, the Big Seven Arm Lock hasn't managed to knock the Taylormade Spider X out of my bag just yet. I will still put some time into practicing the arm lock method, and it's reassuring to know that I have an entirely new putting method to turn to if things go pear shaped down the road. 
In a way, it feels like I've spent big money on a superstar footballer, only to bench him in every single game. My attempt to transition to an arm lock putter has given me a reference point for my current putting style (Tommy Fleetwood style claw grip). As it stands, I am better able to judge speed and distance with my regular putter, and the stability benefits haven't proved significant enough to make a permanent switch.
Nevertheless, I will continue to practice with the Big Seven AL putter, and I am optimistic that transitioning to the JumboMax 17 grip could be the catalyst I need to actually put this putter in the bag on game day. For now though, I'm sticking to the Spider X. 
Key Technology In the Big Seven AL Putter
The Stroke Lab Black Big Seven Arm Lock is a face-balanced double bend putter with an elongated shaft to rest against your lead arm, a popular alternative putting method. This putter features our multi-material Stroke Lab shaft to improve your stroke and our new Microhinge Star insert to encourage consistent forward roll.
Head Type: MalletLoft: 7°
Availability: Right hand + Left hand
Length options: 40.00″/42.00″
Lie Angle: 72°
Offset: Full Shaft
Toe Hang: 0°
Head Weight: 410 grams
White Hot Microhinge face insert
Performance Benefits of Arm Lock Putting
Added length in the shaft allows you to anchor the putter against your lead wrist
It promotes a natural forward press, resulting in top spin which helps keep the ball rolling along the target line
Arm lock putting can make it easier to maintain the triangle established by your arms and the putter (at address and throughout the stroke)
You don't have to release the putter head past your hands. This can be a lifesaver for people with the yips
It's the best alternative to broomstick putting
Arm lock putting is Bryson DeChambeau approved. As one of the most innovative and scientifically minded thinkers  to ever play the sport (backed up by a degree in physics), if it gets the green light from Bryson, you can pretty much guarantee that there is merit to the madness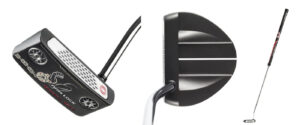 Best Arm Lock Putters The truth is, if you're looking at Arm Lock putters, you probably have a small (or large) case of the yips.
Read More »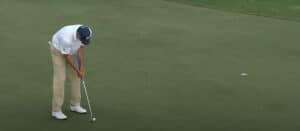 Arm Lock Putting Method Summary What Is Arm Lock Putting? Arm Lock Putting is style of putting, where the grip of the putter runs up
Read More »