The Flat Cat Tak is a game improvement putter grip that can help stabilize your stroke and setup super square to the target. Unlike more traditional 'Fat Grips' the Flat Cat is more rectangular than square in shape. It also isn't that fat. This is good news, because you don't lose quite as much feel as you normally do with a fat grip.  If you invest in the Flat Cat, these are the most important benefits that you can potentially unlock.  
Main Benefit 1: It helps you setup square to the target
When you hold the putter with the Flat Cat Tak installed, you will naturally put the putter head into a square position at address. It also makes it easier to maintain this square feeling throughout the stroke.
Main Benefit 2: It feels very stable in your hands
A traditional pencil putter grip is designed to be held in your fingers. When the Flat Cat is installed vertically, you can hold the grip in the palm of your hands. This can be a Godsend for people with shaky hands or a case of the yips.
Your palms literally sit squarely against the flat face, and this can massively improve the stability of your stroke, if this is something that your struggle with.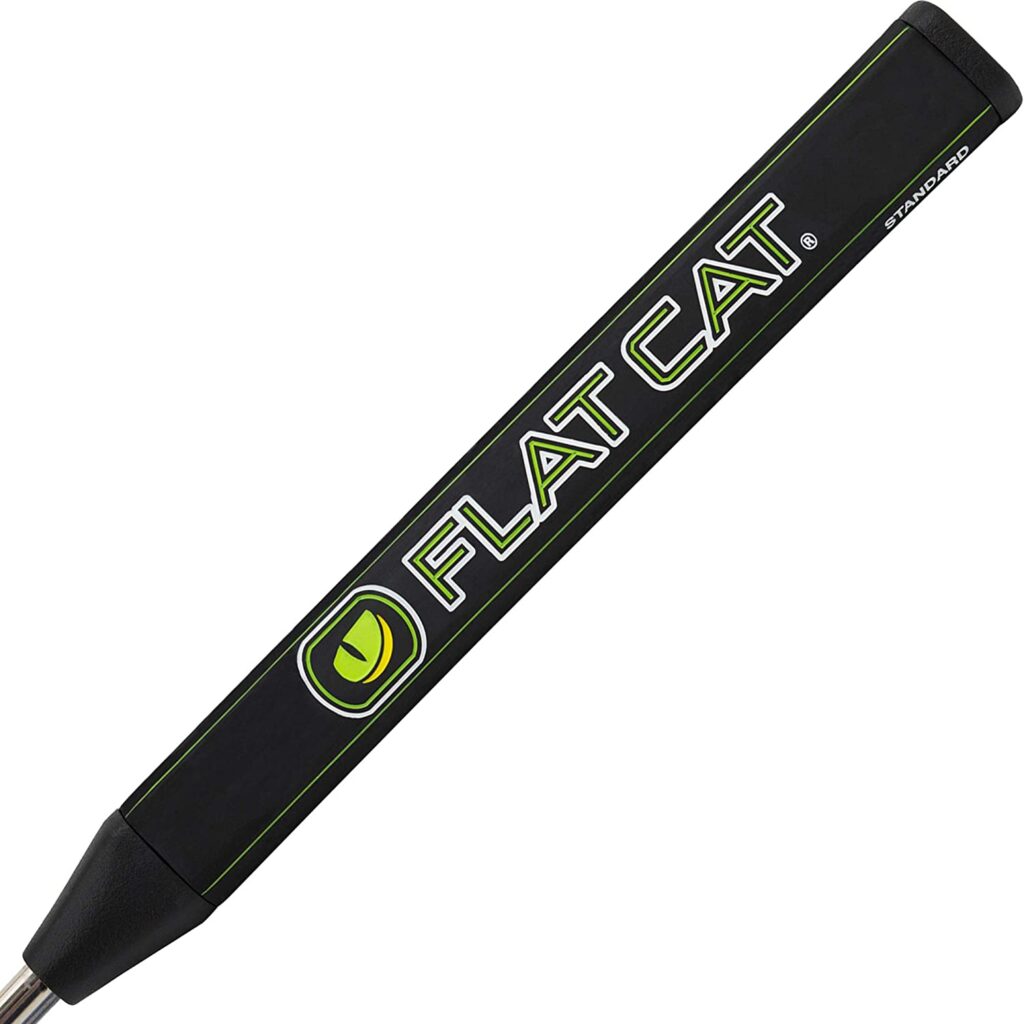 Unique and proprietary shape immediately improves putting consistency and accuracy
The innovative FLAT1™ design squares the handle to the putter face and provides TRU-alignment to the intended target line
Featuring the Easy-Glide™ cone for effortless removal from a player's bag
Made from a proprietary rubber compound for a tackier, comfortable feel
Outstanding performance during humid and wet conditions
Unique rubber wrapped foam core provides improved feedback and control
Recap of First Round with the Flat Cat Tak
In my first round with the Flat Cat Tak, I was pretty happy with my putting performance, although it definitely wasn't a perfect day out.
On holes 1 and 3 (both par 4's) I was left with a 6 footer and a 7 footer for par, and drained them both. Normally I would have missed one, if not both of these putts. However, on hole 4, I had a great birdie opportunity and putted it through the break. The issue in this case was pace.
In the end, I had:
4 x one putts
12 x two putts
2 x three putts
With the three putts, I left myself with 5-foot testers and pulled them both slightly. I can't blame the grip for pulling the putts (that is 100% my fault, and something I've been battling with since moving to the Taylormade Spider X Slant Neck which has 30 degrees of toe hang). However, I can blame the grip for my slight issues with speed on the day. That would be my biggest criticism of the Flat Cat Tak. It can take you a while to regain your sense of green speed.
Easy to setup square to the target
Easy to retain the feeling of being square, throughout the stroke
Sits nice and flat in the palm of your hand
It can stabilize your putting stroke
Much better feel than most fat putter grips
You may lose a bit of feel compared to a normal grip
Your sense of green speed may take some time to adjust
You can still push and pull putts
It's not a miracle cure for bad putting
In the end, I'm pretty happy with this purchase. The Flat Cat Tak definitely makes my stroke feel more stable, and the putter head feels most natural in a perfectly square position. In other words, it has delivered on all the main promises of the manufacturer.
With that being said, I'm still prone to bad putts, and my distance control still needs a bit of work with the Flat Cat installed.
Lastly, I'm also considering Arm Lock putting, but until I make the switch, I genuinely don't think there is a better grip to help me with short and mid-range putts. All I can say is well done to Lamkin. This product delivers on its claims.
Is the Flat Cat Grip Good For The Claw Grip?
100% Yes. The Flat Cat is particularly well suited to the claw grip. Your left hand should find it a bit easier to keep the putter face square and steady when using the claw style grip. You can also install it horizontally (like Justin Rose) or vertically when using the claw grip, but it seems to more common to in the horizontal position for the claw grip specifically.
Can you use the Flat Cat Grip On Your Driver
The short answer is no. The Flat Cat Putter grip should not be installed on a driver. However, you may want to look into jumbo size grips for your irons and driver. Some people
Flat Cat Grip vs SuperStroke
I've written a more detailed article on the Flat Cat Grip vs the Superstroke Flatso (the closest product alternative that you can find). Here is my conclusion:
If you install the grip horizontally (ie like Justin Rose Does): The Flat Cat will feel more square, but slightly less comfortable to hold. The Superstroke Flatso 2.0 feels very comfortable when installed horizontally (it isn't designed to be installed vertically). The top of the Flatso putter is completely flat, but your fingers can wrap around the backside of the grip more easily (the underside has an arch shape).
If you install the grip vertically (ie the way it is actually designed to be installed): There is no comparison between the two, because the Flatso 2.0 can't be installed vertically. More importantly, this is how you should install the Flat Cat Tak grip, assuming you want to gain all the benefits that this grip has to offer. I can confidently state that no other putter grip will help you square the putter face as much as the Flat Cat Tak does.