One Length irons have simplified the game of golf. Instead of changing your spine angle and swing arc for each iron in the bag, single length irons effectively allow you to use your '7 iron swing' for every iron in your set. Each club is literally 7 iron length. This allows you to maintain the exact same ball position with each club in the set, removing yet another variable from your iron game.
Popularized by Bryson DeChambeau and Cobra Golf, the one length formula appears to be working for a lot of amateur players. If you read the reviews on Youtube, CobraGolf or GolfWRX, it becomes pretty clear that once you switch to single length clubs, there's no going back to standard length irons.
Ultimately, single length irons have the potential to improve your consistency without sacrificing distance. That is why they are so frequently sold out. The appetite for this product range is strong, and rightfully so.
Best One Length Irons For Low Handicappers
Cobra King Forged One Length Irons
The Cobra King Forged One Length Irons are the same model that Bryson DeChambeau uses. They are better suited to highly skilled golfers with fast swing speeds (ie 0 to 6 handicaps). Unlike the Forged Tec Irons (featured lower down the article), the Forged One Length Irons have more traditional lofts (ie weaker), and the lie angle is exactly the same throughout the set. 
Handicap Range: 0 – 6
Better suited to players with a fast clubhead speed
More traditional lofts, across the set
Ideal if you want generate a bit more spin, and shape your ball flight
The lie angle is exactly the same across the set, sitting at 62.5°
These irons have the least amount of offset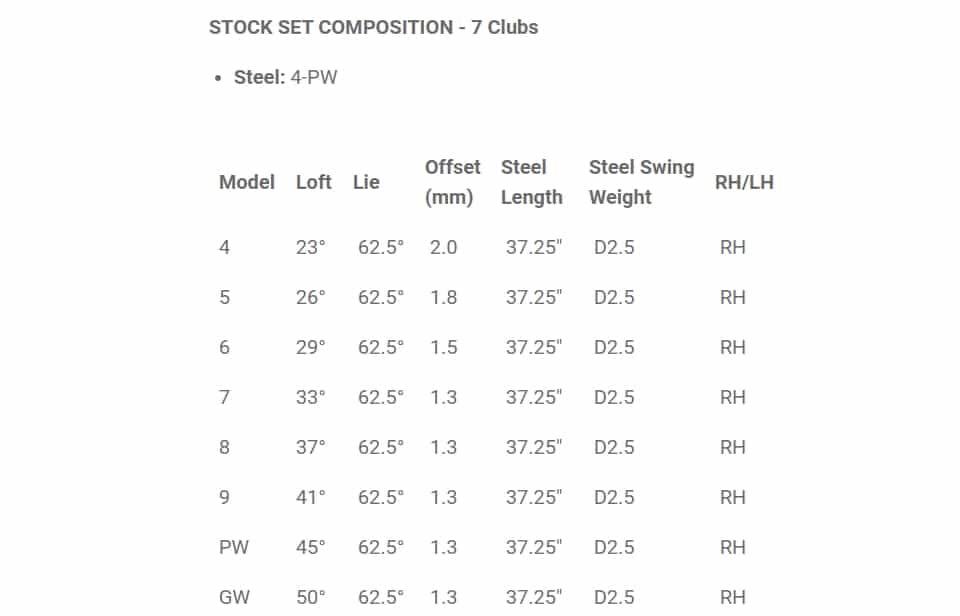 Best One Length Irons For Mid Handicappers
Player Distance Irons – These are ideal for low-to-mid handicap players that want a reasonably compact iron head, with a good helping of game improvement technology. This is the sweet spot that caters to a large percentage of the market.  Handicap range: 3 – 15. 
Cobra King Forged Tec One Length Irons
The Cobra Forged Tec Single Length Irons are comparable to the Taylormade P790's, the Titleist T200's and the Ping i500's. In other words, they are good-looking, player distance irons with a compact head that still have more than enough game improvement technology for most players. 
You can expect these irons to launch high without too much backspin or sidespin. It's easy to understand why they are so frequently sold out. Cobra can't make enough of these bad boys.  
Handicap Range: 3-15
Each iron is the same length as a 7 iron (37.5″)
Ideal for players with a moderate-to-fast clubhead speed
High launch, mid-to-low spin
Hollow designs deliver low CG and controlled distance
Foam insert ensures a softer feel and better sound
PWRShell Forged face insert creates a larger sweet-zone for higher launch and faster ball speed
Tungsten weighting centers the CG behind the hitting zone to maximize distance and precision
Best One Length Irons For High Handicaps
Cobra King RADSPEED One Length Irons
The RADSPEED ONE Length irons feature Cobra's most advanced technologies to date, including RADIAL WEIGHTING, and the first-ever 3D printed medallion to create Cobra's longest, fastest, and most forgiving ONE Length irons.
Built with very similar specs to the Speedzone one-length irons, the new and improve RAD Speed versions are the most forgiving single-length irons that you can buy. 
Handicap Range: 10-20
Each club is the same length as a 7 iron (37.5″)
Forged PWRShell 17-4 stainless steel face
Carbon fiber topline lowers CG and increases MOI
Built to maximize consistency
Cobra King Speedzone One Length Irons
The Cobra King Speedzone One Length Irons are best suited to mid and high handicaps that want all the game improvement technology Cobra has to offer. 
The biggest innovation in the Speedzone One Length irons is the carbon fiber topline. This helps lower the CG and maximize ball speed. Ultimately, switching to the Speedzone irons could be a gamechanger if you struggle with your iron play. You gain all the consistency benefits that one length irons can offer, together with a boat load of modern technology to help launch the ball high and straight. 
Handicap Range: 10-20
Each iron is the same length as a 7 iron (37.5″)
Carbon fiber topline lowers CG and maximizes ball speed
Speedzone shaping improves stability on off-center hits
PWRShell Forged face insert creates a 35% larger Sweet Zone to enhance ball speed
Premium sound and feel 
Cobra King F8 One Length Irons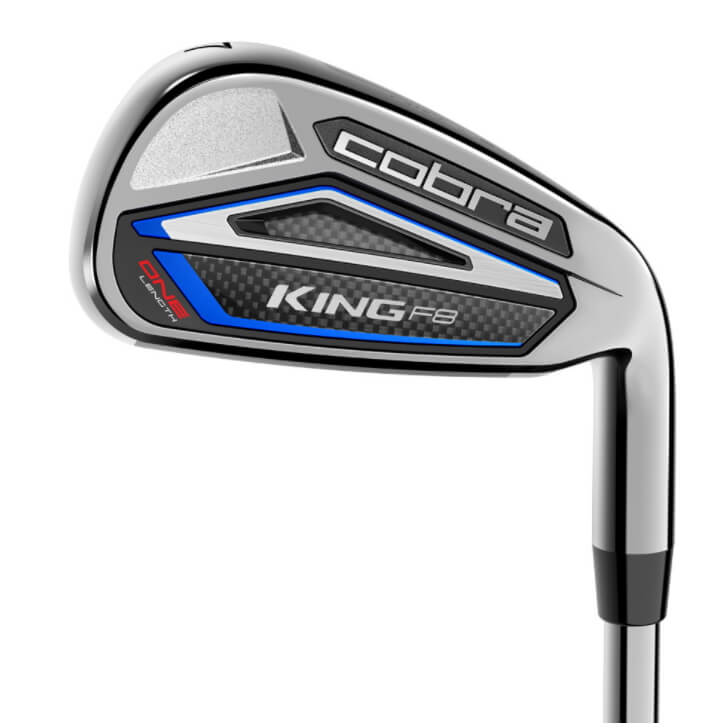 COBRA's first ever connected set of ONE Length™ irons are designed to improve your game. Carbon fiber tuned PWRshell™ Technology delivers superior feel and long, towering shots. COBRA Connect Technology proves the performance.
Stock Set: 5-GW (7 Clubs)
Each iron is the same length as a 7 iron (37.5″)
Game improvement irons
Handicap range: 10 – 20
The most budget friendly option
Cobra King F9 One Length Irons
Wishon EQ1-NX Single Length Irons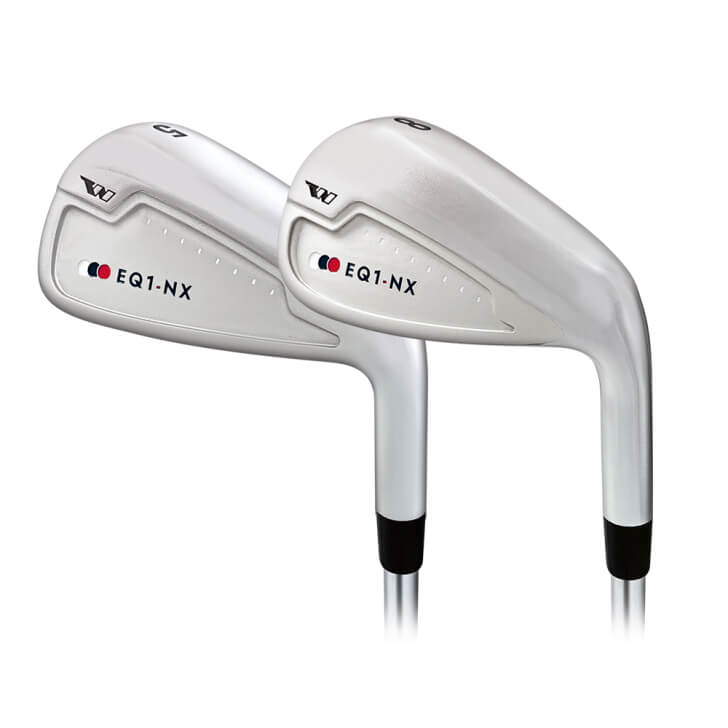 Wishon's new single length iron design concept EQ1-NX offers same length and high COR low loft iron characteristics while adding many new performance enhancing features to mark a definite step forward in game improvement iron design.
Please note – Tom Wishon doesn't make a single length lob wedge, because there isn't a strong enough market demand. The Wishon golf single length sets effectively go from 5 iron to sand wedge.
Pinhawk SL Single Length Irons
The Pinhawk SL single length golf clubs can be credited with putting single length irons on the map! These heads incorporate a "game improvement" design without looking clunky, making them a good fit for a wide range of golfers. They have extreme perimeter weighting and a deep undercut cavity for the ultimate in forgiveness. And despite the forgiving design, the Pinhawks have a very moderate sole width and a low offset on each iron.
Do you lose distance with one length irons?
With shorter irons (8 iron to lob wedge), you should find that you actually hit the ball further. This is because the longer shaft will increase your swing speed automatically, meaning a faster ball speed with the shorter clubs.
However, with longer irons (4 iron to 6 iron), you will find that the ball doesn't travel quite as far as standard length irons. With longer clubs, the reduced shaft length will automatically decrease swing speed, meaning shorter carry distance and a slightly slower swing speed.
A one length 7 iron should travel the exact same distance as a standard length 7 iron. So to summarize how yardage works with single length clubs:
A 7 iron will travel the same distance that you are used to
Shorter clubs (8 iron to lob wedge) will travel further than you are used to
Longer clubs (4 iron to 6 iron) will travel shorter than you are used to
What is the benefit of one length irons?
The primary benefit of single length clubs is that you can use the exact same swing with every iron in your bag.
To understand why this is the case, you need to appreciate that the length of a golf club has a direct impact on your swing arc and your swing plane.
As you can see in the image above, shorter clubs have the steepest swing plane, while longer clubs have the shallowest swing plane. This is why ball position (how far away from the ball you stand) is so important. It has a direct impact on how steep or shallow your swing plane is.
Importantly, with single length irons, there is no need to change your ball position of your swing plane with each iron in the bag. Think of it this way… One Length = One Swing. No additional adjustments or compensations are necessary.
Do one length clubs influence yardage gaps?
In a word yes. It works like this.
The distance gaps between shorter irons will increase.
The yardage gaps between longer irons will decrease.
This is all down to shaft length. Because the shaft length of shorter irons is longer than normal, you will swing the club faster, resulting in faster ball speeds and additional distance. By the same token, because the shaft length of longer irons is shorter than normal, you will automatically swing the club slightly slower, resulting in a drop in ball speed and consequently less distance. 
Can you buy a one length fairway wood?
At this point in time, the answer is no. You can buy a single length hybrid, but Cobra golf have yet to release a one length fairway wood. Based on this, it's fair to say that if you make the switch to single length sets, you will need to practice three main swings.
Driver Swing
Fairway wood swing
Iron swing
This is still far less demanding than practicing a slightly different swing with every club in the bag. In other words, you only have to master 3 different types of swings, rather than 13.