If you're on the hunt for irons that are ideally suited to a 10 handicap, you're in the right place. We've laid all the best options currently available on the market right now. 
Best Player Distance Irons For A 10 Handicap
Truth be told, the following irons are ideal for 10 handicap players that are pretty comfortable and pretty confident with an iron in their hands. These irons ultimately cater for a handicap range from 5-15, with 10 being smack bang in the middle. 
With player-distance irons, you are effectively investing in an iron with a compact frame, that packs an impressive amount of game improvement technology, while boasting strong loft specs that should help you hit the ball as far (or further) then you have before. 
The all-new Taylormade P790 features ultra-light urethane foam injected inside the head, engineered to push the design limits of face speed while simultaneously improving feel.
Regular, Stiff, Extra Stiff
The Titleist T200 is everything you've come to expect, from one of the best brands in golf. Powered by Max Impact for better distance across the forged face to convert near misses to nearly perfect. Designed to help better players score lower.
Regular, Stiff, Extra Stiff
After hitting the Ping i500 irons, you'll be amazed at the incredible speed, distance, and towering trajectory, together with stopping power that gives you a real competitive advantage. The forged C300 maraging-steel face, metal-wood-like construction and hinged cavity create the conditions for unprecedented speed, power and distance.
The Callaway Apex 21 Irons deliver an extraordinary level of forged performance and craftsmanship. They're the first forged iron designed with Artificial Intelligence for faster ball speeds and improved spin consistency. Increased forgiveness comes from a massive Tungsten Energy Core, and Callaway has enhanced the shaping for even better turf interaction. In short, the Callaway Apex 21 irons deliver superior performance with iconic feel on every swing.
Srixon's ZX5 Irons combine pioneering ball speed technology with premium forged feel, and deliver all of it in a forgiving yet workable chassis that's razor sharp at address.
Cobra Forged Tec Player Distance Irons
With the Cobra Forged Tec Player distance irons, classic looks fuse with modern technology to unleash a blend of distance and playability in a compact muscle back shape preferred by better players.
Cobra Forged Tec One Length Irons
The Cobra Forged Tec One Length Irons are very similar to the standard length Forged Tec Irons, with one obvious difference. All the clubs are the same length as a 7 iron. 
This can make it easier for 10 handicaps that don't have huge amounts of time to practice become more consistent iron players. When you play variable length irons, your swing arc and ball position change slightly with each iron in the bag. With longer irons, the ball is further away from you and this tends to shallow your swing. With shorter irons, the ball is closer to you, which tends to steepen your swing. The image below summarizes this idea very nicely.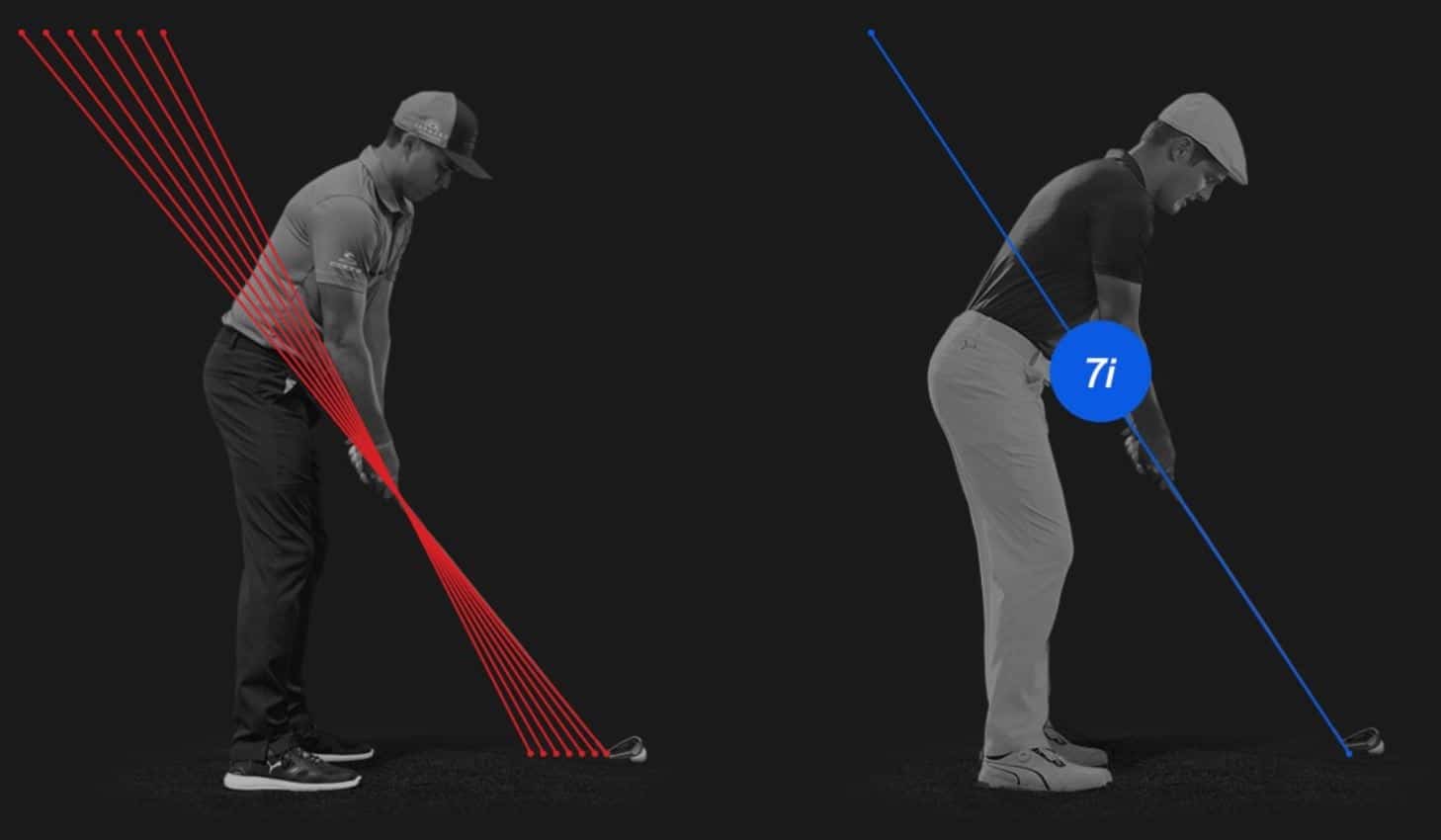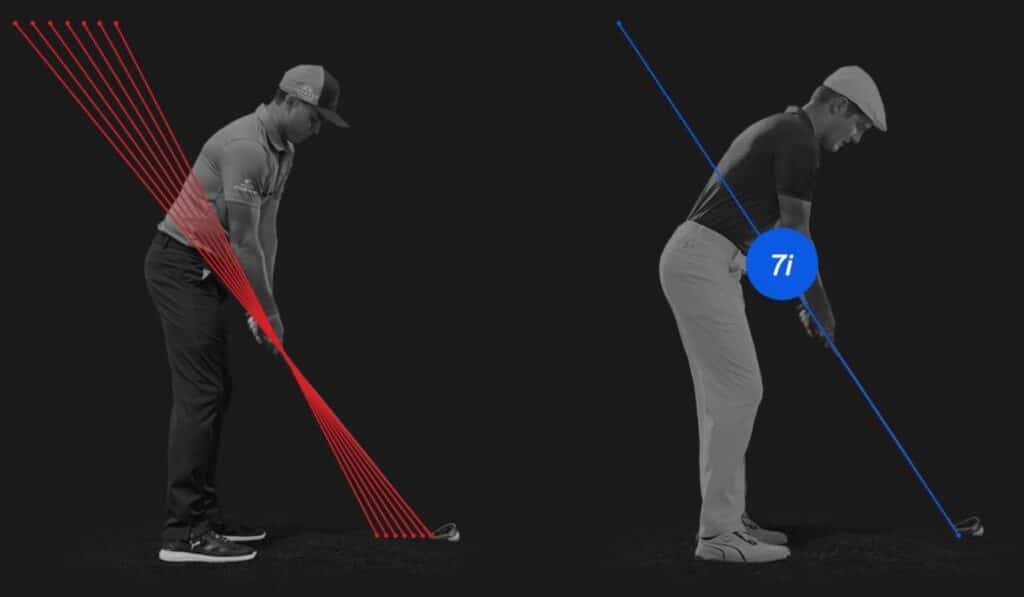 Best Game Improvement Irons For A 10 Handicap
If you range between a 10 and 15 handicap, the following iron sets should be very well suited to your game. They all boast a good helping of game improvement technology, while still maintaining a good-looking iron head that isn't too chunky around the edges. 
The Ping G425, Taylormade Sim2 Max and Cobra Speedzone irons are all very good choices in this category. With that being said, the options from Mizuno and Callaway are also pretty stellar. 
If you just want a set of irons that look great behind the ball and can give you back that 'young man' distance, the G425 irons should be a strong contender on your wishlist.
They are ridiculously easy to hit, they travel a country mile, and they are genuinely good-looking. As far as game improvement irons go, the G425's are arguable the best of the bunch. 
Soft-Regular, Regular, Stiff, X-Stiff
Taylormade Sim2 Max Irons
The Taylormade Sim2 Max Irons have been engineered to help you hit better shots more often with the all-new Cap Back™ design. SIM2 Max has an intelligently optimized sweet spot designed to provide golfers with better performance where they need it the most.
Bring more great shots to your game with Titleist T300 irons. Powered by Max Impact to extend maximum speed evenly across an extremely forgiving mid-sized face. A golf club designed to help any player score lower.
Regular, Stiff, Light, Senior
The custom tungsten-infused weights in each Callaway Mavrik iron positions the CG in each iron with extraordinary precision while still maintaining ball speed in the Flash Face Cup. This promotes optimum launch and ball flight through the set, from strong lofts and player preferred trajectory, spin rates, and landing angles.
Mizuno JPX 921 Forged Irons
The Mizuno JPX921 Forged iron integrates the power of Chromoly into a full-body Forged iron for the very first time.
Initially applied in Mizuno's Hot Metal irons – Chromoly has made the cross over to a Mizuno's forgings with staggering results. The fastest ball speeds Mizuno has ever produced from a fully Forged iron – a treat for both the senses and the scorecard. Grain Flow Forged in Hiroshima Japan.
Cobra King Speedzone Irons - Standard Length
The Cobra SPEEDZONE irons feature a breakthrough in performance with Cobra's first ever Carbon Fiber Topline, delivering an ultra-low CG for maximum speed and launch.
Cobra King Speedzone - Single Length Irons
Irons That A 10 Handicap Shouldn't Use
There are two categories of irons that 10 handicap golfers should basically wipe off the Christmas wishlist. 
Iron Category 1 – Blades: You would be surprised to find out just how many PGA tour players don't play a full set of blades. The reason is simple. Blades are very unforgiving. If you make even the slightest mistake with your swing, you can lose a massive amount of distance or impart a ridiculous amount of side spin too your shot. 
Iron Category 2 – Super Game Improvement Irons: It's easy to spot a set of super game improvement irons. They look like spaceships, with ridiculously chunky soles and a whole lot of crazy stuff happening behind the face. This particular iron category caters to ultimate beginners that need every ounce of technology that equipment manufacturers can offer. 
Basically, if your handicap is 18 or less, you should avoid super game improvement irons at all costs. They will hold you back and make the game feel less satisfying when you hit a good shot.