Why Use A Toe Hang Putter?
All the putters listed below can be classified as 'full toe hang putters'. In essence, this means that they are the very definition of toe down. If you balance the shaft of the putter on your finger, the toe of the putter will point down toward the ground, at almost 90 degrees. 
These putters are ideal for players that have a strong arc. The following images further explain what toe hang is, and how it matches up with a strong arc stroke.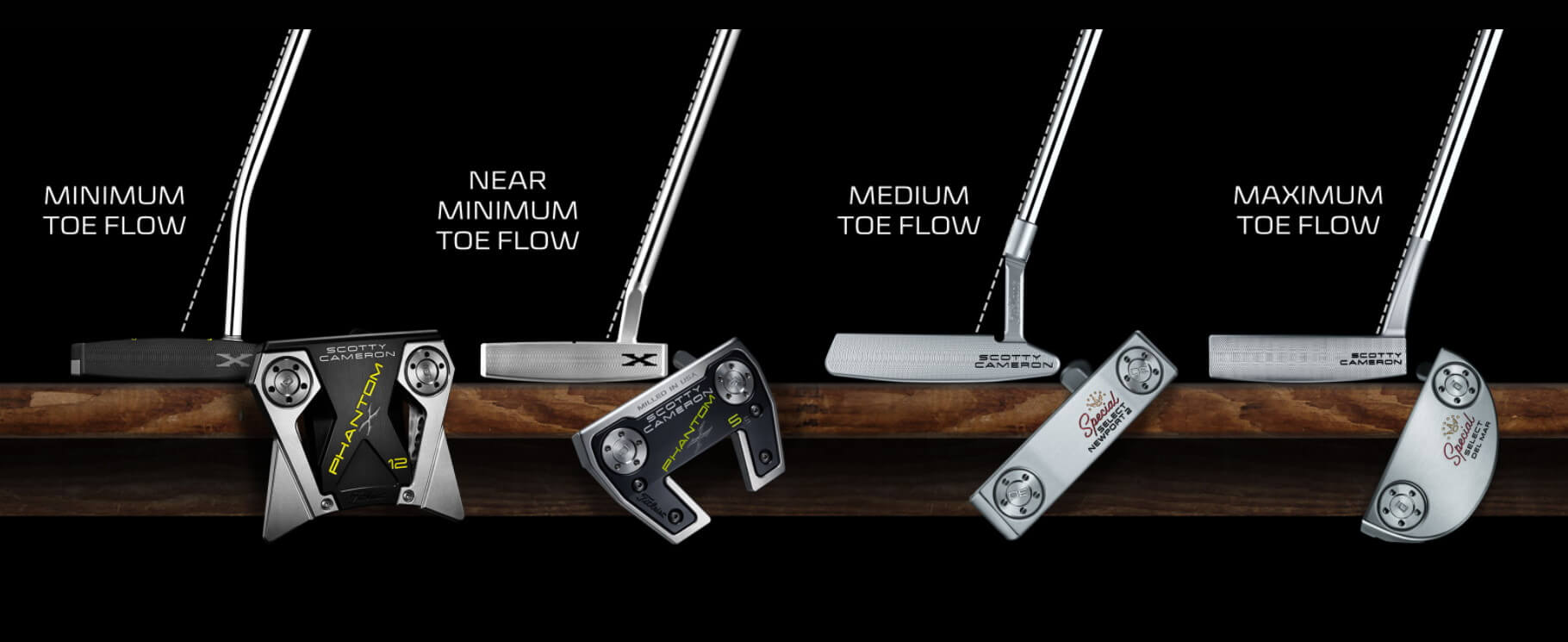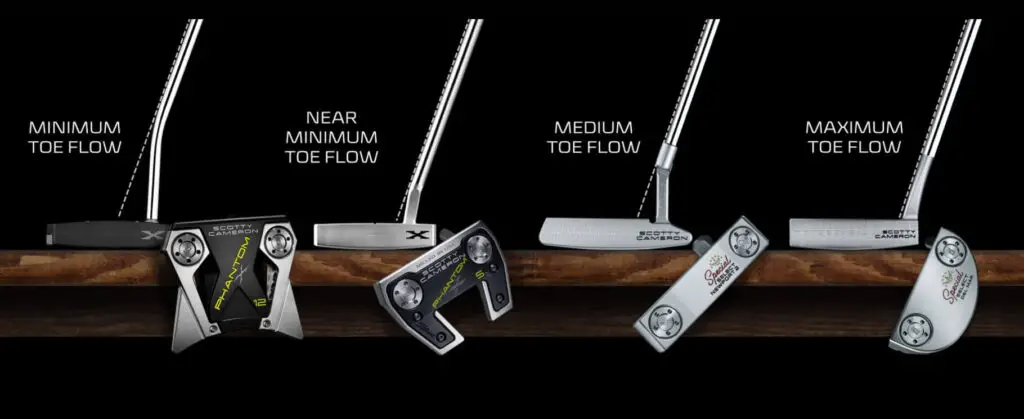 Ass you can see from the image above, a maximum toe hang putter hangs almost direly toward the ground. 

With this image, you can see the three main types of putting strokes, namely:
Straight Back Straight Through: Players that have a straight path should consider using a face-balanced putter.
Slight Arc: Players that have a moderate arc should invest in a putter with a medium amount of toe hang (between 25 and 45 degrees).  
Strong Arc: Players that have a strong arc will find that a maximum toe hang putter complements their natural path. If this applies to you, you should find that the putter feels very balanced as it moves along your 'inside-square-inside' putting path. 
Best Full Toe Hang Putters
Scotty Cameron Special Select Del Mar Putter
Favoring feel players who appreciate toe flow, the classic Del Mar name and styling return in a modern heel-shafted compact mallet precision milled from a solid block of 303 stainless steel. Customizable stainless steel sole weights ensure a performance-balanced setup at every length, while the refined concave flange contours make this classic shape seem brand new. 
The Mizuno M Craft #1 Putter is built with 1025 mild carbon steel for incredible precision and feel. In addition, it features deep face milling that creates a softer feel and pure roll. The M Craft #1 has a square back with a mid slant neck. It also has maximum toe-hang, making it well suited to an exaggerated putting arc. 
Cleveland Frontline 2.0 Flow Neck Putter
The compact mallet of the Cleveland Frontline 2.0 Flow Neck promotes consistency. Tungsten Forward Weighting, 2135 Alignment, and Speed Optimized Face Technology combine for straighter, stable putting.
The Odyssey Model 9 Putter has been produced in multiple different styles over the years. This includes the original white-hot design (featured below), an O-works version, a Versa variant, and many more. It is the same type of putter that Phil Mickelson uses. 
The only issue is that Odyssey didn't re-release the Model 9 design with the new White Hot OG Putters. This means that in order to buy one of these bad boys, you will have to pick up a second hand version. Ebay is a pretty solid bet in most cases. 
Best High Toe Hang Putters
The following putters are classified as 'high toe hang putters'. While they don't quite make the full toe hang category, they still have enough toe hang to be match up well with strong arc and slight arc strokes. 
Scotty Cameron Special Select Fastback 1.5 Putter
The tour-inspired Soctty Cameron Special Select Fastback 1.5 joins boasts a refined small slant neck providing nearly a shaft of offset with a solid milled putter face and an integrated 6061 aluminum sole plate that allows for higher MOI with more weight in the heel and toe, in addition to stainless steel sole weights for stability, a thinner topline and a slightly more compact face height.
Scotty Cameron Special Select Newport 2.5 Putter
The Scotty Cameron Special Select Newport 2.5 introduces a new slant neck uniquely shaped and configured to offer one shaft of offset with a view-enhancing setup that provides higher toe hang, while incorporating the line's new tungsten sole weights for a larger sweet spot and soft tri-sole milling for reliable setup.
The Ping 2021 Anser 4 Designed for players who love the classic look and feel of the Anser-style putter and benefit from a strong-arc model. With heel-toe tungsten weighting for forgiveness and slight variations in its longer, narrower profile and sharper corners.
PING Sigma 2 Tyne 4 Putter
The stability and ease of alignment of the original Tyne are re-created in this heel-shafted version. The heavier 370-gram head is optimized for a smoother swing tempo and designed to improve consistency, especially on shorter putts. The short hosel offers a distinctive – and popular — look at address, and the heel-shafted balance is particularly effective for golfers with more rotation in their stroke or a pull tendency.
32" - 36" (Adjustable Shaft)
PING Kushin 4 Strong Arc Putter
A steel weight in the heel and tungsten in the toe create forgiveness, and this model's parallel and perpendicular visual cues make alignment easier. Its geometries fit the eye, and for strong-arc players the Kushin 4 promotes a confident, consistent putting stroke.