Alex Noren uses an Odyssey ProType iX #1 Putter
Because it is a prototype putter from Odyssey, it isn't available to the general public. 
If you are looking for something as close as possible to Noren's official putter, the Odyssey O Works #1 is about as close as you can get. They are no longer in production, but you can find them second hand on 2nd Swing Golf and eBay. 
The first thing to note is that Alex Noren Putts left hand low. This is also called 'cross-handed' putting, and it is one of the most popular putting methods on the PGA Tour. 
Instead of placing the right hand below the left hand in a traditional style, you essentially reverse the position of the hands.
In addition, it's quite clear that Alex Noren putts with an open putter face, and a significant forward press.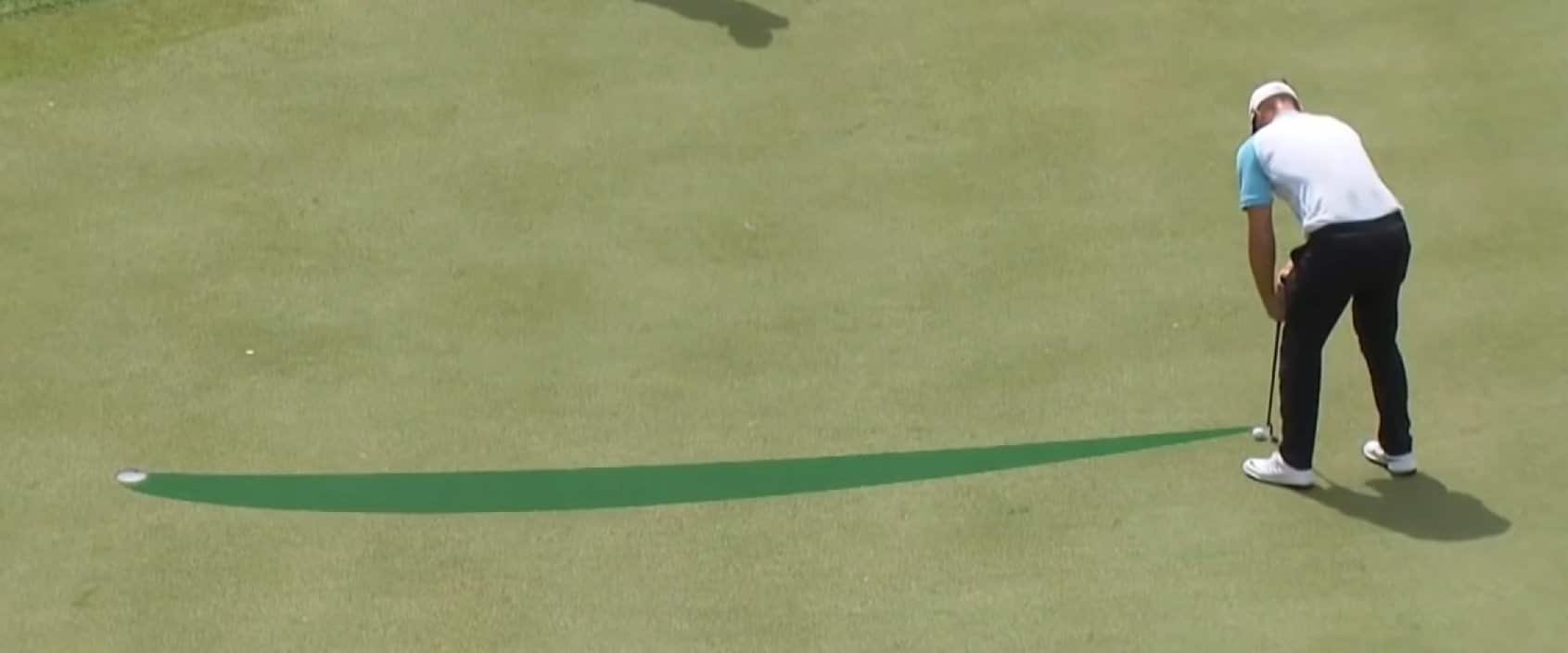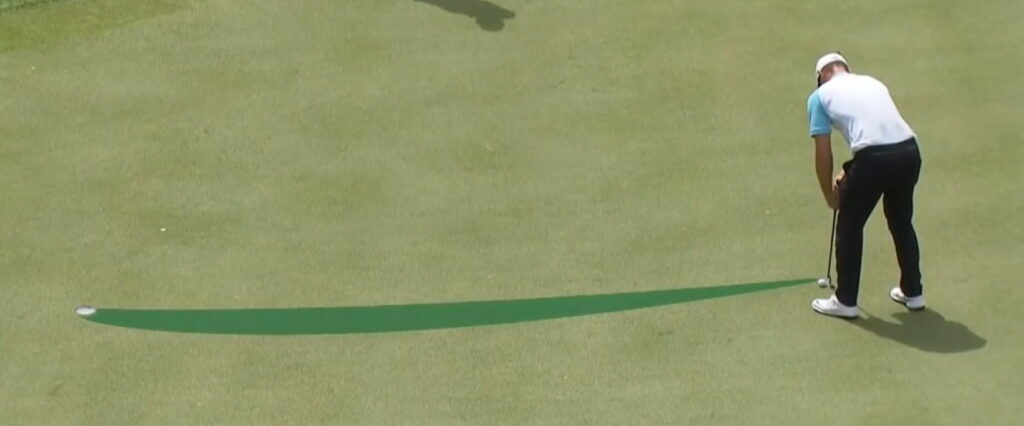 Interestingly, Noren also uses a massive forward press on his full swing, so he obviously feels comfortable holding golf clubs with his hands well ahead of the ball.
One of the advantages of putting with a big forward press is that it makes it easier to generate topspin when putting. This helps to keep the ball rolling end-over-end, which encourages the ball to stay on the intended line (when executed correctly).
That being said, when you employ a big forward press with your putting stroke, you effectively deloft the putter face. This can have a negative impact on how the ball launches off the putter face.
Most putters offer about 3 degrees of loft, to encourage a very slight launch that helps to get the ball rolling and moving in the right direction.
Ideally, if you use a forward press, you should actually increase the loft of your putter.
This might explain why Noren keeps the putter face so open at address. Opening the face increases the loft of the putter, which counteracts the delofting that occurs with a forward press.
| Year | Strokes Gained Putting | PGA Tour Rank |
| --- | --- | --- |
| 2022 | 0.457 | 18 |
| 2021 | 0.538 | 13 |
| 2020 | 0.400 | 33 |
| 2019 | -0.266 | 156 |
| 2018 | 0.758 | 3 |
Based on Noren's putting stats on the PGA Tour, it's pretty clear that he is a top 20 player in this particular aspect of his game.
He consistently gains almost half a stroke per round using the flat stick.
His best putting year was 2018, where he was ranked 3rd in strokes gained putting (0.758 strokes per round). His second best year was 2021, where he ranked 13. His third best year was 2022, where ranked 18th in strokes gained putting.
Ultimately, these stats indicate that Noren's putter and his putting style are clearly producing excellent results.
If you want to emulate Noren, you essentially need to do three things:
Use a left hand low putting grip
Employ a big forward press
Put a plumber's neck blade putter in the bag
Alternative Putters To Consider
The Scotty Cameron Newport is one of the most popular blade putter designs on the PGA Tour. The Newport is crafted from milled 303 stainless steel and built with tungsten sole weighting to improve forgiveness by increasing the size of the sweet spot.
Ultimately, if you're a good putter and you like a plumber's neck design, you can't go wrong with a Scotty Cameron Newport.